When buying car insurance, choosing proper coverage limits is very important. Uninsured motorist and liability insurance limits are the most important of all.
Understanding Insurance Policy Liability Limits
Auto insurance policies cover bodily injury (BI) and property damage (PD) liability in an at-fault accident. BI reimburses others for medical treatment, missed work, pain & suffering and related expenses. PD pays to fix or replace autos, structures and other property that you damage.
In Maine, uninsured and underinsured motorist bodily injury (UMBI) is important coverage. It protects YOU and people in your household or vehicle. What if you're in a crash where someone else is at fault? They have little or no insurance. UM pays your medical bills, lost wages, pain & suffering and more. In Maine, UM limits match BI liability limits except in very rare cases.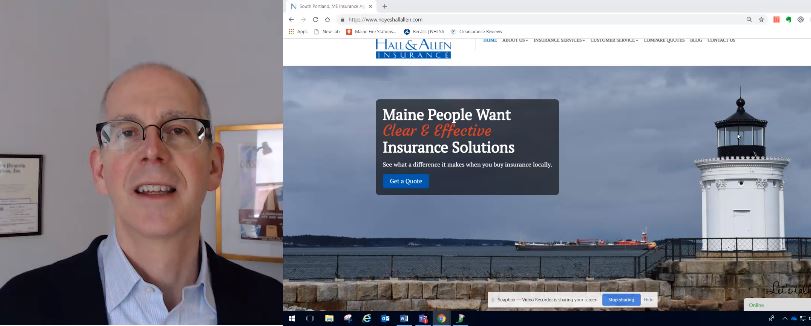 Split Liability Limits
Split limit liability policies are easy to identify. They have separate limits for bodily injury and property damage. They also slice BI coverage into a limit per person and per incident.
If your policy limits are 100/300/100, you have a split limits policy.
In an at-fault crash, your policy will pay $100,000 max per person. It will pay $300,000 max for all injuries you cause. You have the same limits for injuries uninsured people cause to you. A 100/300/100 policy also pays $100,000 max to fix vehicles, buildings and other property you damage.
The Most Common Insurance Shopping Mistake
Many insurance shoppers think 100/300 UM limits give them $300,000 of protection. They actually have about 1/3 of that. Here's why: most vehicles on the road have 1 person in them. If you crash into another vehicle injuring a single occupant, your policy pays only up to $100,000.
That sounds like a lot. It's not. A few days in ICU with surgeries, CAT scans and other tests can easily cost more than $100,000. Accident victims often collect pain and suffering settlements, too. What happens if your insurance isn't enough to pay for the injuries you're responsible for? Your personal assets are at stake.
Remember that your UM limits are the same as your liability limits. If you're hit by an uninsured driver an you have 100/300 limits, your medical bills may exceed your insurance.
Auto Property Damage Limits
Don't forget that third number: 100/300/100 means you have $100,000 max of property damage coverage. That could include:
Vehicles (including commercial or public vehicles)
Buildings
Street signs, telephone poles and other roadside items
With the cost of vehicles, it's easy to imagine causing more than than $100,000 damage in a multi-car accident. The cost of driving into the front of a building can easily top that.
Combined Single Limit to the Rescue
Combined single liability (CSL) is just what it sounds like. There are no sub-limits for bodily injury per person and per accident and property damage. Just a big, round number. If you buy a $300,000 combined single limit policy, you have a pool of $300,000 to pay for all the damages you cause.
It's all available for property damage if no one's injured. It can pay for one seriously injured person.
Even more important, $300,000 of UM coverage pays up to that amount of YOUR medical bills following a crash with an uninsured at-fault party.
Which is Cheaper: Combined Single Limit or Split Limits Auto Liability?
Most discount insurers sell split limit policies. Because they have "gotcha" sub-limits, the insurance company can charge lower premiums. They know that they are unlikely to pay the high "per accident" limit on the policy.
In the real world, most split limits policies have MUCH less coverage than a combined single limit policy. Very rarely, you see generous split limits like 500/500/250. A policy like that would be even better than a $300,000 CSL policy. Most split limits policies have MUCH lower limits. Unsuspecting buyers, lulled into complacency by the "per accident" limit, think they're fine.
A Good Insurance Agent Can Help
If you're shopping for Maine car insurance and confused by all the options, contact Noyes Hall & Allen Insurance in South Portland. We offer a choice of Maine's top insurance companies. We can compare price and coverage to find the best value. Best of all, we provide personalized professional advice, at no extra charge! Call us at 207-799-5541. We're independent and committed to you.