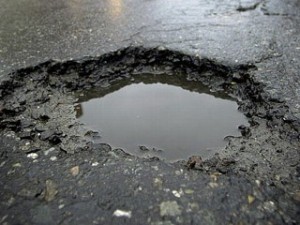 Potholes can cause hundreds to thousands of dollars of damage to your vehicle, including flat tires, bent rims, misaligned steering and underside  damage. They can even cause an accident if you lose control of your vehicle or swerve suddenly to avoid one.
What should you do after you hit a pothole? Clients of our South Portland Maine insurance agency commonly ask three questions after they hit a pothole:
Who Pays for Pothole Damage to My Car?
Potholes can appear quickly, and can reappear even after they have been filled repeatedly. Maine law absolves municipalities from liability for damage caused by potholes unless the pothole was reported more than 24 hours before your accident, and untreated.  This is difficult to prove, which means you're usually not going to get help from city or town hall. Maine State Law is even more lenient with state-owned roads: the state of Maine is never liable for damage caused by potholes.

Is Pothole Damage to My Vehicle Covered by Insurance?
Hitting a pothole, or any other hazard in the road (other than live animals) is covered by the collision section of your Maine auto insurance or Maine commercial vehicle insurance policy. If you purchased collision coverage, your collision deductible will apply. If it is a single-car incident, it's considered "at fault", and therefore may increase your auto insurance rates. Your Maine insurance agent can help you decide whether or not you want to file an auto insurance claim for pothole damage.
Will Anyone Else Pay for Pothole Damage?
New car dealers sell a product called "road hazard warranty". It typically covers road damage to tires and rims, with a small deductible. Check to see if you purchased this warranty when you bought or leased your vehicle. If so, you may be in luck.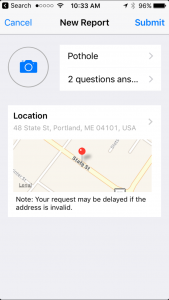 What to Do if Your Vehicle is Damaged by a Pothole
Pull off the road as soon as it's safe. Is your vehicle is still OK to drive? If not, call a tow truck. 
Note the date and time of the accident. Take a photo of the pothole and report it. If it's a town road, report it to your municipality's Public Works Department. If it's a state route, report it to MDOT (207-885-7000 in Southern Maine).  The City of Portland has a web page: FixIt! Portland. They also have a mobile app.
If you're not sure your vehicle is OK, have a repair garage check it.
Call your insurance agent if you're considering whether to report an insurance claim.
Have questions about Maine auto insurance or Maine commercial vehicle insurance? Want to compare Maine car insurance quotes in 10 minutes? Contact Noyes Hall & Allen Insurance at 207-799-5541. We're independent and committed to you.