You're engaged! The world is a happier place when you share your life with someone else. The most common symbol of that commitment is an engagement ring. As high as you feel when that ring is on your finger, you can feel equally sad and angry if the ring is lost or damaged.
Insurance can't stop bad things from happening, but it can pay to repair or replace your precious engagement ring. We see it regularly in our South Portland, Maine insurance agency. Here are five things we've learned that most people don't know about insuring their engagement ring.
Basic Home and Renters Insurance Doesn't Cover Theft of Expensive Jewelry
Most modern homeowners policies limit coverage for theft of jewelry to $1,500. Some have an even lower limit. Your policy also has a deductible – often $1,000.
If your $4,000 ring is stolen along with other things from your jewelry box and some small electronics, your insurance might only pay $1,000 or $1,500 for all of it.
Basic Insurance Doesn't Cover Losing a Stone from Your Engagement Ring
Off-the-shelf homeowners or renters insurance covers your personal property ("stuff") for 16 listed perils. Those perils are fine for most types of property, but not jewelry. If your jewelry is damaged by something outside of those 16 perils, you have no insurance coverage.
A gem falling out of a loose setting is not one of the 16 named perils. Neither is having to cut your ring off after an accident or injury to your hand. Or, dropping your engagement ring into the ocean while proposing, for that matter.
It's Not Expensive to Insure Your Engagement Ring Properly
The proper way to insure jewelry in Maine is to "schedule" (list) it on your homeowners or renters insurance using a Scheduled Personal Property Form. This changes the insurance coverage on your jewelry from "named perils" to "open perils". That sounds small, but it's BIG.
Instead of the insurance listing perils that are COVERED, an "open perils" policy lists a few that are EXCLUDED. And those exclusions really are few. Things like wear & tear, intentional damage, and war.
Most insurance companies charge a rate of less than 1% for scheduled jewelry. It should cost less than $100 a year to insure your $10,000 diamond engagement ring.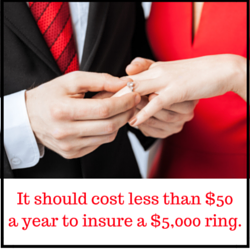 Insuring Your Engagement Ring Probably Protects Your Other Stuff
Most people in Maine insure their jewelry as a part of a renters or homeowners policy. It's the most cost-effective way to insure jewelry. Bonus: your renters policy also covers your other belongings, and protects you against most general liability lawsuits for negligence.
Many couples don't think to buy renters insurance until they get engaged, and suddenly have a very small and valuable asset: the engagement ring. Their renters policy also covers their furniture, electronics, bikes, clothing and other "stuff" – almost anywhere in the world.
Engagement Ring Insurance Usually Has No Deductible
Unlike the rest of your home or renters insurance policy, most jewelry insurance riders have no deductible. The insurance company covers 100% of the cost to replace or repair the damage to your engagement ring if you separately schedule it.
If you're recently engaged…
you're starting a new and wonderful path together. You're combining your lives as never before, and making big plans together. It's also a great time to think about saving money – and protecting yourselves better – by combining your insurance.
How does Maine auto insurance change when you're engaged? What about renters insurance or homeowners insurance? If you live in the Southern Maine, contact Noyes Hall & Allen Insurance at 207.799.5541 for answers to your insurance questions. We're especially convenient to the Portland peninsula, South Portland, Cape Elizabeth and Scarborough Maine. And, we're independent and committed to you!