If we recommend an insurance company you haven't heard of, it's natural to ask how good they are. Noyes Hall & Allen represents many insurance companies. Some are more well-known than others.
Because our companies sell through independent agencies, they advertise very little. By contrast, Geico, Allstate and State Farm advertise nationally to create brand awareness. Geico alone spends $1 BILLION on advertising – about 1 out of every 6 insurance advertising dollars in the U.S.
Good rates are important, but that's only one reason for choosing an insurance company. Will they pay your claims? Are they easy to work with? At Noyes Hall & Allen, we've curated a group of insurance companies that we can stand behind. We work closely with them on behalf of our clients.
How to Choose a Good Insurance Company
There are three important considerations when you evaluate a potential insurer:
Financial solvency – Can the insurance company can pay claims, even in a disaster? Fortunately, A.M. Best studies insurance companies and rates each one for you. Noyes Hall & Allen only chooses insurers rated "A-" (Excellent) or better.
Customer Satisfaction – Feedback from other customers is helpful when evaluating a new insurer. Any company can have complaints; but those with repeatedly good reviews are a better bet to provide good service to you. The J.D. Power national claims satisfaction survey compiles consumer claim feedback every year. But they focus on big national insurers. That excludes many regional insurance companies, which are so important in the Maine market.The Maine Bureau of Insurance indexes home and auto complaints by insurer. It includes Maine's most important insurance companies. The drawback: the Bureau doesn't get many complaints each year. That small sample can skew results. The Bureau weighs the ratio of complaints against each insurer to that company's volume. This weighting levels the playing field. An insurer with an index below 1.00 is "better than average". Anything above 1.00 is "worse than average". We've included a chart with a recap of those scores below.
Fit with Your Situation – If you insure your beach house with an insurance company that has great financials and terrific reviews, but that company doesn't like property close to the coast, it's not going to end well. Some insurers specialize. Others are generalists. Some are comfortable insuring rental properties, or snowmobiles. Others focus on high risk drivers.
Complaint Index – 2016 – Maine Home and Auto Insurance
We compiled this table from data published by the Maine Bureau of Insurance. It shows the 2 year average of home and auto complaint indexes for the top 25 homeowners and auto insurance companies in Maine (by volume). We assigned a "green light" to the companies with ratings in the top 33%, yellow to the middle 33%, and red to the bottom third. Remember, customer satisfaction is only one way to evaluate an insurance company. The companies with the highest satisfaction may not write the kind of insurance you need.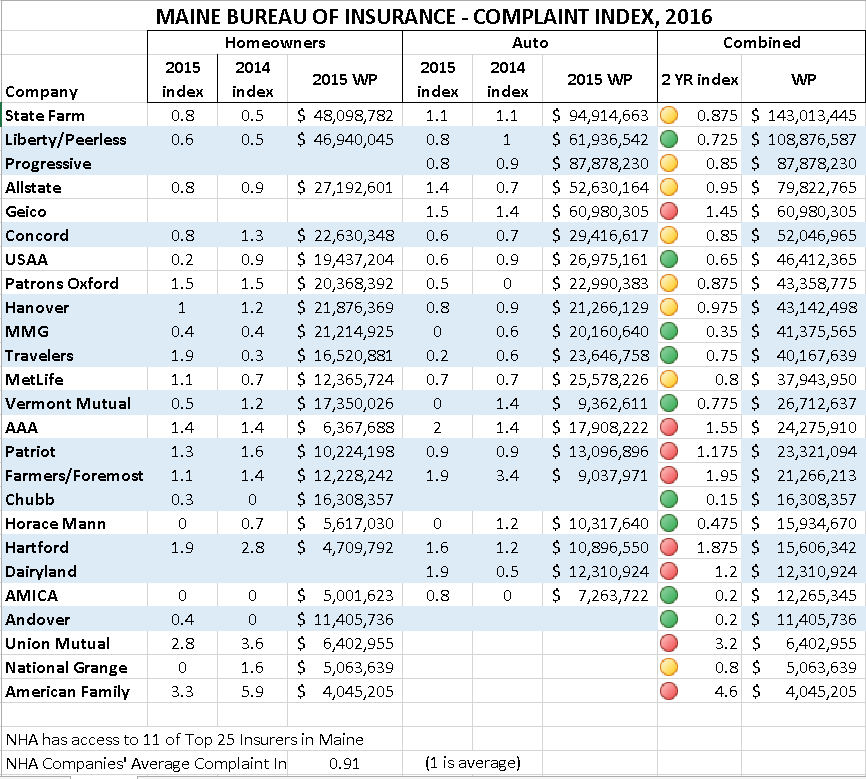 How to Get Quotes from Many Insurance Companies at Once
Noyes Hall & Allen has access to the companies shaded in blue. That's 11 out of 25, covering more than 50% of the volume in this list. The insurance companies we represent have a complaint index of 0.91 – much lower than the 1.00 average. By the way, insurance agencies have online reviews, too. We're proud to show the reviews that our clients have left for our agency.
When you contact a Noyes Hall & Allen agent, you're checking 11 companies at once, backed by our knowledge of where each company excels. Your agent can customize advice to your situation, proposing a solution built just for you.
That's what we mean we we say we're "Independent and Committed to You". Request a Maine insurance quote today, or call us at 207-799-5541.