It's party season in Maine. Many of our clients will host a Bar Mitzvah, wedding, baby shower, reception, anniversary party, memorial service, graduation party, or fund raiser. They'll rent a church hall, function hall, camp, country club, college or city building. And, they'll call us for insurance advice.
The Good News: You're Covered!
If you bought homeowners, condo or renters insurance from Noyes Hall & Allen, your policy says:
6. "Insured location" means:
h. Any part of a premises occasionally rented to
an "insured" for other than "business" use.
Those terms in quotations are defined in your insurance policy. If your policy has your name on it, you're an "insured". If you're not profiting from the function, it's not a "business".
Boom! Your Noyes Hall & Allen homeowners policy covers your liability from the function and the hall rental.
The Function Hall Should NOT Want to Be an Additional Insured
Every venue should have a rental contract. Most contain "hold harmless" clauses. That means you agree to be responsible for what happens while you're renting the premises. Scary? Maybe, but unless you want to have everyone at your house, you don't have much choice.
Some venues ask to be an "additional insured" on your homeowners insurance policy. Additional insureds are common on Maine business insurance policies. That makes sense, since businesses operate various activities in many locations. It's not the same on a personal policy.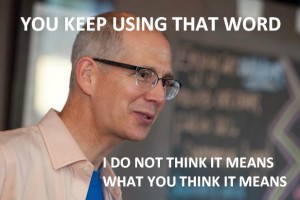 The Additional Insured form on a homeowners insurance policy (HO 04 41) is different. It limits "insured" status to others to your home. In other words, it's useless in a case where you're renting a function room. No homeowners insurer that we are aware of allows "additional insured" status for cases like this.
Also, remember the "business" exclusion on the homeowners policy? That applies to all "insureds". So your homeowners policy excludes the owner of the function hall from coverage as an insured anyway.
A function hall shouldn't ask you to list them as an "additional insured". Tell them we said so.
Let's Keep it Simple
Your Maine homeowners insurance is a broad and powerful tool. It protects and defends you against injury and damage you're liable for. That includes liability you assume by a contract.
You signed a rental contract for the hall. You agreed to hold the owners harmless for what happens during your function. If someone sues the owners for an accident at your function, they will turn that lawsuit over to the responsible one: you. And, your homeowners insurance will protect and defend you.
This is all INCLUDED in the homeowners, renters or condominium insurance policy you already have. You should only need to prove to the hall that you have insurance. Call us, and we can do that for you.
What About Liquor Liability?
Homeowners policies cover you for what happens on the premises. They exclude liability from auto accidents. Look to an auto insurance policy first for that coverage. The driver's auto insurance would protect you AND them. If the driver doesn't have enough insurance, your own Maine auto insurance should also protect and defend you. The coverage and damages can vary greatly depending upon individual circumstances. Talk to your Maine insurance agent for individual advice.
Pro Tip: Hire a professional bartender. They're trained to recognize when someone has reached their limit. Ask them for a certificate of liability insurance. Mingle with your guests and enjoy your party, instead of stressing out!
Do I Need Wedding Insurance?
Wedding insurance is a different product. It covers the additional costs created if your venue closes, your photographer or band cancels, or some other calamity happens. That's different that the liability issue we've been discussing.
If you live in the Portland Maine area and have questions about renting a hall, wedding insurance, or other insurance questions, contact a Noyes Hall & Allen Insurance agent at 207-799-5541. Noyes Hall & Allen represents many of Maine's preferred insurance companies, and offers choice and professional advice. We're independent and committed to you.