Maine weathered a huge storm today. About 6″ of rain overwhelmed storm drains, flooding streets, basements and parked cars. Fortunately, it was only a rain event. Winds were not damaging. Here are the most common questions we expect from our clients after they survey the damage.
Does Auto Insurance Cover My Flooded Car or Commercial Vehicle?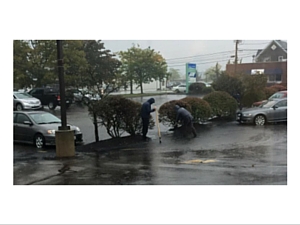 If you have "other than collision" coverage on your vehicle, water damage from flooding is covered. Other Than Collision coverage was formerly known as "comprehensive" coverage. If your car was inundated and needed to be towed to a mechanic for evaluation and repair, the towing would be covered, even if you didn't purchase separate "towing" coverage. Of course, your deductible (usually $250 to $1,000) would apply.
Does Homeowners or Condo Insurance Cover My Flooded Basement?
This one's trickier. If the water came over the sills of your foundation, only flood insurance would cover that. Homeowners policies do not cover flood damage. Flood insurance is only offered by the National Flood Insurance Program. Every Maine independent insurance agency sells flood insurance.
If water backed up into your home through a drain or sewer, your homeowners policy MAY pay for cleanup and repairs. You would have to purchase optional coverage. An "off the shelf" homeowners or condo policy does not cover water backup.
Even if you do have water backup coverage, be careful. Most insurers limit coverage to $5,000, including the cost of water extraction and damage removal. Cleanup alone in a finished basement can cost $5,000 following serious water damage.
Is My Business Insured for Water Damage?
Business policies vary considerably. Many DO cover water backup, but very few cover flood damage from surface water. It's best to ask your Maine business insurance agent if your own policy would respond.
Do you have questions about Maine business insurance, homeowners insurance, condo insurance or auto insurance? Do you want to get a Maine insurance quote? Call a Noyes Hall & Allen agent at 207-799-5541.