The holiday season is very important for many of our business insurance clients, especially retailers and manufacturers. We're fortunate to have friends who create, design and sell some really cool things. We thought we'd share some to help you to choose the perfect gift for that special someone.
If you're looking for Maine-themed gift ideas this holiday season, think about supporting these local businesses. We wish you health and happiness in 2016 and beyond.

1. The Honey Exchange – Bees Wrap
494 Stevens Ave., Portland
Our friends at The Honey Exchange sell all things apiary – even bees! One of our favorites is Bees Wrap, a natural alternative to plastic food wrap – and it smells great, too!
Made with organic cotton, beeswax, jojoba oil, and tree resin.  Warm Bees Wrap with your hands to create a seal around the top of a bowl, half a lemon, the end of a loaf of crusty bread, or a piece of cheese.  When cool, the wrap stiffens, holding its shape and seal.
$17.99
2. Sunnyfield Farm – Lemon Ginger Biscotti
sunnyfieldbaking.com
Liz from Sunnyfield has an inspiring backstory – and she's a wiz in the kitchen. Each of her biscotti varieties is delicious, but her Lemon Ginger Biscotti is our favorite.
Freshly grated lemon peel and chopped crystallized ginger combine to make a fantastic taste combination. Perfect with a cup of tea! Six to a package.
$9.00
 3. Nonesuch Books – The Adventures of Beekle, The Unimaginary Friend
Mill Creek Shopping Center, 50 Market St. South Portland
The youngster on your list will love the story of Beekle, the Unimaginary Friend, winner of the 2015 Caldecott Medal.
The magical story begins on an island far away where an imaginary friend is born. He patiently waits his turn to be chosen by a real child. Overlooked time and again, he sets off on an incredible journey to the bustling city, where he finally meets his perfect match and-at long last-is given his special name: Beekle.
$17.00
 4. David Wood – Charlie Vest
229 Commercial St., Portland
David Wood has been outfitting Portland's best-dressed men for decades. Their "Charlie" vest is their exclusive design, made for them in the Hertling trouser shop.
They have a variety of tweeds available at most times. You can special order too, made to their fabric or yours.
$275.00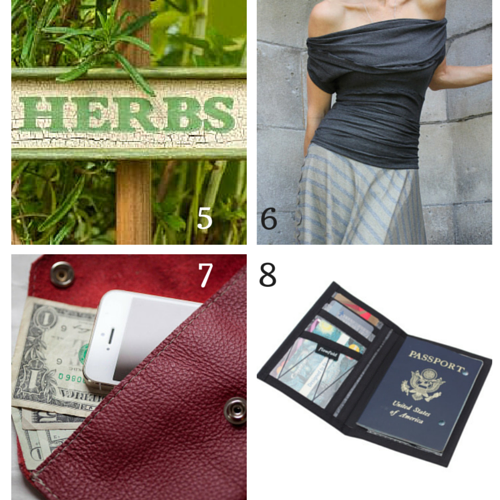 5. Allen Sterling & Lothrop – Herb Garden Kit
191 US Route 1, Falmouth
Perfect for the cook (or Simon & Garfunkel fan) in your family. They can grow their own kitchen herbs with these "Sterling Quality" herb seeds from Allen, Sterling & Lothrop.
Includes seeds to grow: parsley, sage, rosemary, thyme, oregano, chives, Genoa basil and Purple Leaf basil.
$24.00
6. Angelrox – The Flirt
angelrox.com
Biddeford-based fashion designer Roxi Suger created this versatile piece. The Flirt is a lovely layer that provides gentle comfortshaping along with fabulous flair.
Our favorite feature of the Angelrox Flirt is its versatility. This one garment can be worn as a skirt (with adjustable length); a strapless slip; a cowl top; or a poncho!
$98.00
7. Kurier – Envelope Wallet
615 Congress St., Portland
Kurier's genuine leather Envelope Wallet is handmade in Portland. It's perfect for a few dollars or a credit card and I.D., or great for sunglasses. Closes with a silver snap.  W: 7.5" X H: 4".
$23.00
8.  Flowfold – Navigator Passport Holder
flowfold.com
Peaks Island-based Flowfold creates durable products from sail makers' leftover cuttings. Flowfold is on a roll, gathering  new business awards, an appearance on Green Light Maine, and 12,000 Facebook fans.
Flowfold's Passport Holder allows your traveling loved one to access their passport's pages, or stow it away completely. Three inside pockets hold currency, passport, and tickets. The outer piece keeps cards and ID's readily available.
$40.00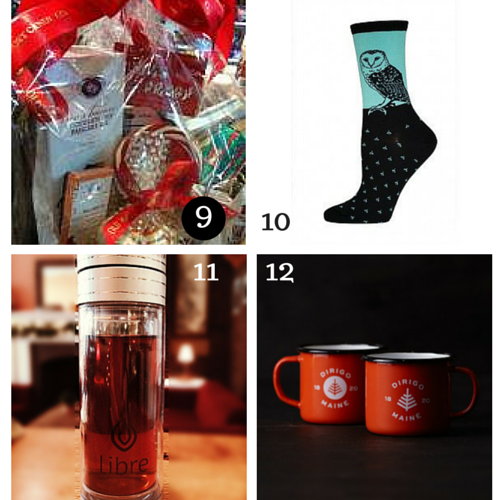 9. Old Port Candy Co. – Bacon Gift Basket
422 Fore St., Portland
Doesn't everyone have a bacon lover on their list? Anna & Tom at Old Port Candy have curated the perfect gift for them.
This Bacon Gift Basket includes; Bacon Mints, Bacon Lolli, House-made Chocolate-Covered Bacon (3), a Mini Vosges Mo's Bacon Bar, Bacon Floss & Bacon Toothpaste, Bacon Air Freshener, and a goody bag filled with Gummi Fried Eggs (bacon & eggs – get it?).
$50.00
 10. Sock Shack – Women's Barn Owl Socks
564 Congress St., Portland
Owls are cool, and so is The Sock Shack, located in the heart of Portland's Arts District.
These Barn Owl Socks are sure to make heads swivel. They're 63% cotton, 34% nylon and 3% spandex.
$7.50
11. Dobra Tea – Libre Tea Insfuser
89 Exchange St., Portland
Dobra Tea is an oasis of calm in the holiday-harried heart of the Old Port. Their comfortable and relaxing tea room has an exotic atmosphere. If you fall in love with what you're drinking, bring some loose tea home.
Dobra also sells tea supplies. This Libre tea infuser allows you to drink tea on the go. It has a glass interior and plastic exterior.
$30.00
12. Might & Main – Dirigo Enameled Mugs
might-main.com
OK, so Might & Main isn't exactly a retailer. They're actually the brand and design geniuses behind many of Portland's hottest restaurants and other businesses.
But they've also focused their design talents on creating the 1820 Collection, a series of Maine-themed clothing, accessories and other goods. That's where you'll find these Dirigo Enameled Mugs. Your favorite beverage is sure to look just a little more elegant in these. Set of two.
$36.00