Now that the Maine weather is turning cooler, many families will be using their clothes dryers more frequently. As a Maine fire insurance agent, we urge you to be careful when using your dryer to avoid the tragedy of a fire in your home, apartment, condominium or business property.
The National Fire Protection Association estimated that nearly 18,000 dryer fires occurred in the U.S. in 2006, killing or injuring more than 350 people, and causing nearly $200 million in property damage.
Common Causes of Dryer Fires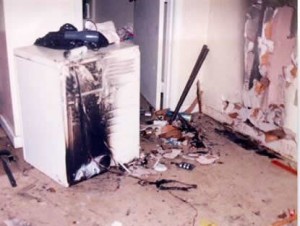 The leading cause of dryer fires is failure to properly clean the appliance. Lint can build up in the exhaust duct or the dryer itself. This blocks the flow of air, causing heat to build up to the point of combustion. Another common cause is heat build-up in the clothes being dried. This can occur when clothing that the manufacturer labels to be air-dried is placed in the dryer. Clothing with padding is a common culprit; heat builds up in the dense fabric. Clothes that have been soiled with flammables such as gasoline or paint thinners can also cause fires if they are not thoroughly cleaned first.
Dryer Fire Prevention Tips
Clean the lint screen before or after each load.
Periodically clean the dryer vent and duct. If you notice that your dryer is taking longer than normal to fully dry your clothes, this can indicate a blocked exhaust duct. Check the outside vent while your dryer is running to be sure that air flow is steady and strong. Don't forget to reconnect the ductwork after cleaning!
Install a metal exhaust duct, not the plastic accordion-style ductwork.  Rigid ductwork is better than the flexible type, which can more easily trap lint.
Follow clothing manufacturer cleaning instructions. If the label says "air dry", don't put it in the dryer.
Keep the area around your dryer free of clothing and clutter.
Vacuum behind the dryer to prevent lint buildup.
Promptly remove dried clothes from the dryer. Do not leave them in the appliance or piled in a laundry basket.
Following these safety tips can help you avoid having to report a homeowners insurance claim, and keep your property and family safe. If you are looking for a Maine independent insurance agency representing many preferred homeowners and condo insurance companies, contact Noyes Hall & Allen Insurance at 207-799-5541.