Maine insurance rates are some of the lowest in the US. But home and auto rates are up as insurers struggle with rising claim costs and rising construction values. Fortunately, Maine insurance buyers are seeing smaller rate increases than much of the country.
Maine Auto Insurance Rates
As of June 2022, Maine auto insurance rates are averaging a 1.7% increase at renewal. That's considerably less than the national average of 4.3%. The Wall Street Journal recently reported increases as high as 20%.
The main factors driving auto insurance increases include:

More driving. Miles driven are returning to near pre-pandemic levels
More serious crashes. Traffic fatalities reached a 16-year high last year.
Higher repair costs. Parts and labor costs have both risen sharply due to staffing issues, shipping problems and supply chain glitches.
Higher used car prices. When insurance companies total a vehicle, they have to pay the current used car market price. Used car prices went through the roof recently.
Car rental issues. Auto body repair times are much longer. That means longer replacement rentals. Daily car rental costs have spiked, too.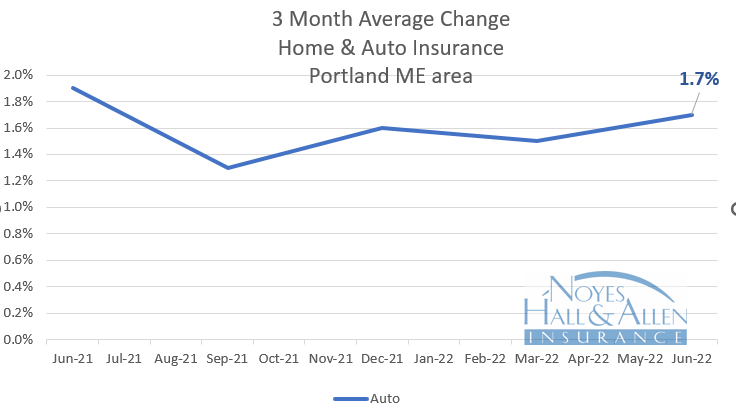 Maine Home Insurance Rates
Maine home insurance rates are rising faster than auto premiums, at a 4.1% clip. That's still less than the 6% national average. And at an average premium of $1005 per year, Maine home insurance is a relative bargain.
Home insurance costs are affected by building values and claim costs.
Rebuilding costs. Building materials and labor costs spiked during the pandemic. Insurance companies have increased their "inflation guard" factors to provide increased coverage on renewals.
Longer repair times. Contractors are hard to find, too, which increases additional living expenses.
Unusual weather. Natural disasters caused $116 Billion in insured claims in 2021. Maine sees far less than the rest of the US. That's one reason why our rates are lower. But insurers are feeling less certain about predicting future losses.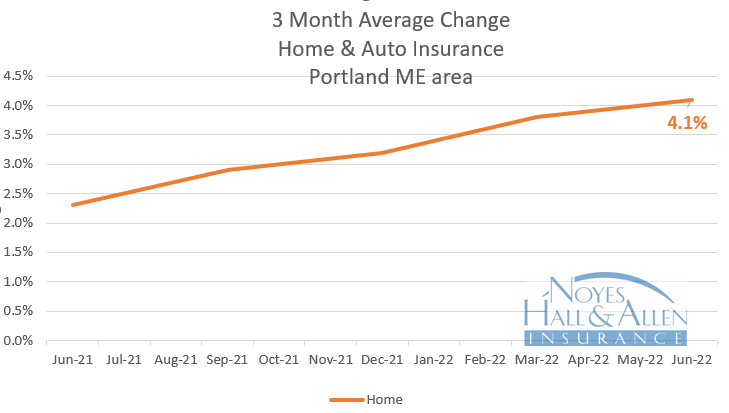 Individual Home and Auto Insurance Rates Vary
Every insurance company files their rating plan with the Maine Bureau of Insurance. That plan includes individual rating factors such as driving record, insurance claim history, property location and personal insurance scores.
Maine Insurance Rates – Find the Best Value
If you live in southern Maine, you can get up to 5 insurance quotes in 10 minutes from our website. Or contact a Noyes Hall & Allen agent in South Portland at 207-799-5541 for a free no-obligation custom review. We offer a choice of several insurance companies. That means we can help you find the best insurance value.
We're independent and committed to you.