Auto accidents are stressful, and the scene is often chaotic. Emotions and nerves run high, which can prevent clear thinking. Whether you're driving a personal vehicle or a business vehicle, if you've been in an auto accident in Maine, you may have these questions.
Do I Need to Report an Auto Accident in Maine?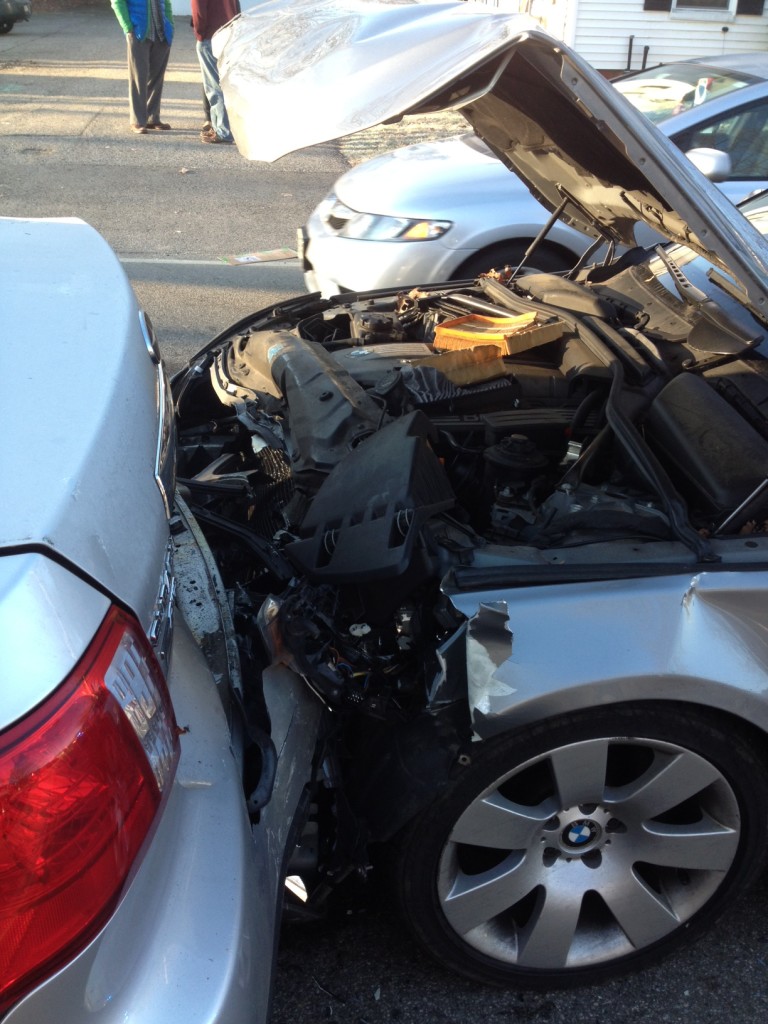 Maine state law requires you to report to the police any accident on a public road causing more than $1,000 in property damage or any bodily injury (a driveway, parking lot or other private property is not considered a public way). If you fail to report, you've committed a Class E crime, and may have your driver's license suspended. So, it's better to report it, just in case.
3 Good Reasons to Report Your Accident Anyway
$1,000 damage is less than you think. On modern vehicles, most parts are replaced, not repaired. A simple cracked bumper plus labor costs will do it. The responding police officer may estimate it lower, but it almost always costs more.
Injuries aren't always immediately apparent. Sometimes everyone says they're fine at the scene, but ends up at the ER or the doctor's office later.
Stories can change. A police report captures them at the scene. 'Nuff said.
While You're Waiting for the Police to Respond to Your Accident
Assuming everyone's OK, not belligerent, and you've been able to pull over to a safe spot:
Take photos of the vehicles with your phone. Include license plate numbers and any apparent damage.
Take photos of the other person's info: driver's license, insurance card an registration.
Get the other person's phone number.
Record names, addresses & phone numbers of any passengers in either vehicle.
Won't the Police Get Information About the Other Driver?
Yes, but police no longer are required to share this information at the scene, and they rarely do. We get it: the police are busy, and traffic accidents are mostly a paperwork chore for them. They didn't become cops because they loved to file reports. And they file a lot of them. The police office will tell you that the insurance company can get the report and all the information online.
Important Things About the Accident Report that the Police DON'T Tell You
Accident reports aren't available for a long time. If you're lucky, it's 2-3 days. In larger cities, it can be weeks. That's a long time if you're waiting to start your insurance claim.
Accident reports cost money to obtain. The insurance company will order one, so your local agent doesn't want to pay for it, too – just to get the info to report your claim.
That's where than info you gathered before the police arrived comes in handy.
You'll be able to report your auto accident to your agent or insurance company with all the info you need.
If you were clearly not at fault, it allows you (or your agent, if you have one) to report the claim RIGHT AWAY to the other driver's insurance company. This is especially important if you don't carry collision coverage on your own vehicle. If the other insurance company accepts responsibility, they will pay to fix your vehicle and rent a replacement while yours is in the shop. If it turns out the other driver didn't have valid insurance (it happens), you can make a claim under your own insurance, or, if you didn't buy collision coverage, at least plan accordingly.
Your photos document the extent of damage at the scene. Believe it or not, things sometimes change between the time of an accident and the time an adjuster sees the vehicle ('nuff said).
Noyes Hall & Allen Insurance clients can report claims here, or call us at 207-799-5541. If you live in Greater Portland and find this information helpful, why not get 5 Maine car insurance quotes in 10 minutes from our website?