In the last week of the year, everyone in the news, sports and entertainment world seems to present a "year in review". We thought we would look at some of the claims our clients had in 2010. We'll start with property insurance, in the hopes that it might help you manage risks and make decisions about your own Maine homeowners insurance or business property insurance.
When you report an insurance claim to Noyes Hall & Allen, we categorize them and engage your insurer for proper handling. Here's a comparison of the property claims we initiated in the past 3 years. They give a good indication of the protection that your insurance provides.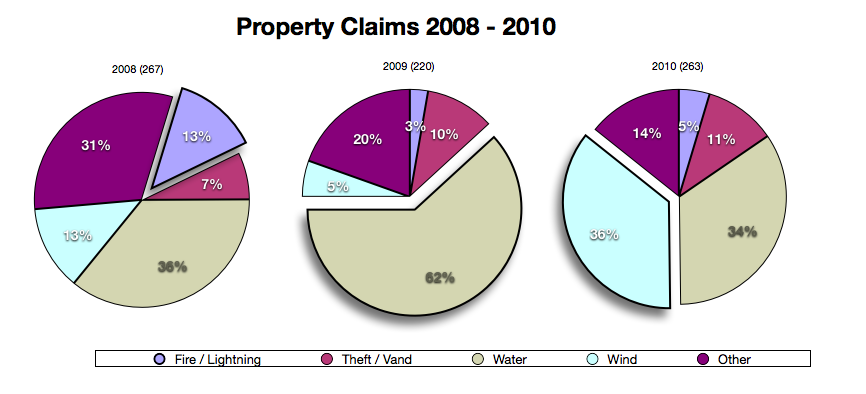 2010 – Four Strong Winds
If wind damaged your home, or tree limbs fell on your property last year, you were in good company. In a typical year, wind claims represent 10% of the total property claims reported to us. In 2010, it was 36%. From February to August to December, the coast of Maine was blasted by unusually strong winds.
2009 – The Water Was Wide
People usually think of fire insurance when they insure their property. But water damage is the most common property insurance claim in Maine. Normally, 35% of homeowners and business property claims report water damage. In 2009, it was almost double that amount. Frozen pipes, leaking pipes, ice dams, toilets, tubs and sinks overflowing – even burst washing machine hoses – are all covered by most Maine insurance policies. We saw them all in 2009. Fortunately, it was a quiet year for claims overall. The clear winter resulted in 15% fewer claims than usual.
2008 – Fire and Rain
Although 2008 brought a normal number of claims, we saw an unusual number of winter fires – typically the most expensive claims – and lightning damage from summer storms. Fire and lightning losses occurred at 3 times the usual rate.
What Deductible Should I Carry?
As these graphs show, property losses happen all too often. This means that you should choose a property deductible carefully. Pick the highest one that you can afford to pay out of pocket in case of a loss, in order to get the best insurance discounts available.
The table below shows the average cost of different types of insurance claims in our agency in 2010. Use this information to help you determine the best deductible for your budget.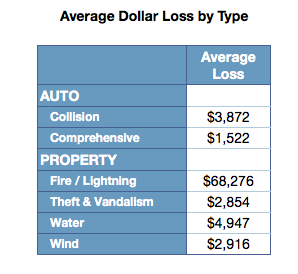 For specific advice about your insurance situation, contact your Noyes Hall & Allen agent at 207-799-5541.