Many clients purchase a new car on the weekend or after work, when their agents' office is closed. Is a new car or truck automatically covered by their Maine auto insurance policy?
The answer varies, of course, but most preferred auto insurance companies in Maine do provide some automatic coverage for a new vehicle if you have an existing auto insurance policy.
Most companies that sell insurance through a Maine Trusted Choice Independent Insurance Agent like Noyes Hall & Allen use policy forms written by Insurance Services Office (ISO). The following infographic outlines the automatic coverage for a newly acquired auto in an ISO Personal Auto Policy.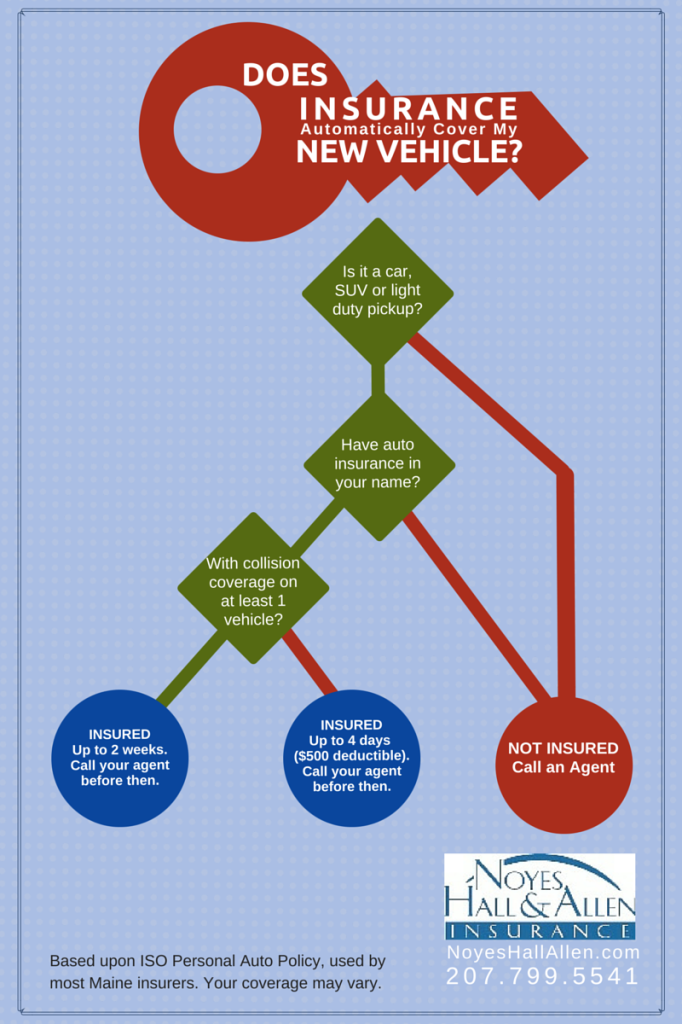 Several other Maine insurers do not use an ISO Personal Auto Policy. These include Progressive, State Farm, Allstate and GEICO. If you're insured by one of those companies, you'll have to call your insurer to find out how they treat new autos.
For example, Progressive's auto policy appears to match coverage to a vehicle that the new one replaced. If you replaced an old vehicle that didn't have collision coverage, the new vehicle won't be covered for collision until you notify Progressive. GEICO's auto policy appears to have the same restriction. State Farm's policy doesn't appear to distinguish between an additional vehicle and one that replaces a vehicle on the policy.
As always, check your own policy or with your own insurer to find out how your policy addresses the issue of automatic coverage on a new vehicle. For answers to these and other insurance questions, contact Noyes Hall & Allen in South Portland Maine. If you're already a Noyes Hall & Allen client, you can notify us about vehicle changes from our Client Center. We're independent and committed to you.