We recently tried WreckCheck, a new free app from the National Association of Insurance Commissioners (NAIC)  that promises help reporting an auto accident to your insurance company.  In our opinion,  it's the best auto-accident app we've seen yet.
WreckCheck allows you to enter your insurance policy information ahead of time, so you'll have it handy in case of accident (Make sure you your insurance card is also in the glove box , in case your phone is missing or damaged).
What to Do After an Auto Accident
Even the most level-headed person can be flustered after an accident. What to do first? What information do I need? That's where WreckCheck comes in. Just open the app and follow the prompts. The screens are simple and easy to use.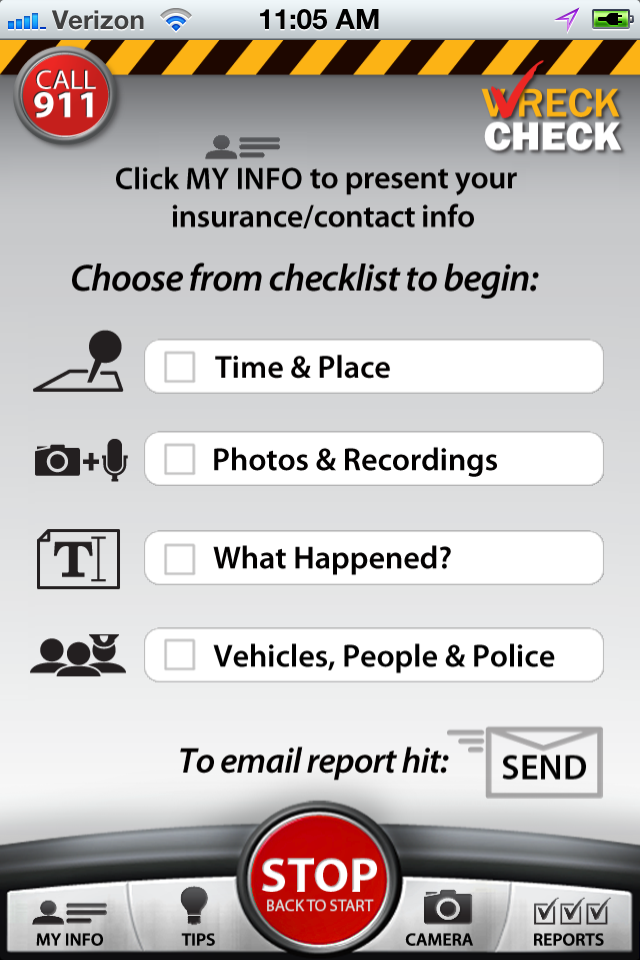 First, WreckCheck has a big red button to call 911. After you've reported the accident, if you're safe and well enough, the app really becomes useful.
WreckCheck captures the accident's location using your phone's GPS, and prompts you to record the scene using your smartphone camera and microphone. There's also a free-form text box to explain what happened. Finally, there's a simple form prompting you for  information about the other vehicle, driver and passengers, including their insurance info. You can even record information about the responding police officer.
Once you're done, email the whole report to your Maine auto insurance agent with the push of a button. WreckCheck is available in Apple iOS and Google Android format.
We like WreckCheck for several reasons:
It's thorough. The app prompts you to gather all of the information your insurance company would need to start a claim.
It's easy. The user interface is clean, and you can enter information by photo, voice or text.
It's flexible. Many insurance companies have their own apps, which is great until you decide to shop for auto insurance and switch companies. With WreckCheck, you simply update your policy data and your insurance contact information. Even better, if you use a Maine Trusted Choice agent – who represents several insurance companies, all you have to do is change your company and policy number in the app. It can even be used to report commercial vehicle insurance claims.
It's FREE!
 If you are looking for a locally-owned tech-savvy Portland Maine area insurance agency that offers a choice of many preferred insurance companies to protect your home, autos, toys or business, you should contact Noyes Hall & Allen Insurance. We're independent and committed to you.