Comprehensive and collision insurance is how most Maine people and businesses insure their vehicles. Though often lumped together, they're really separate coverages. What's the difference between them? Do you need both?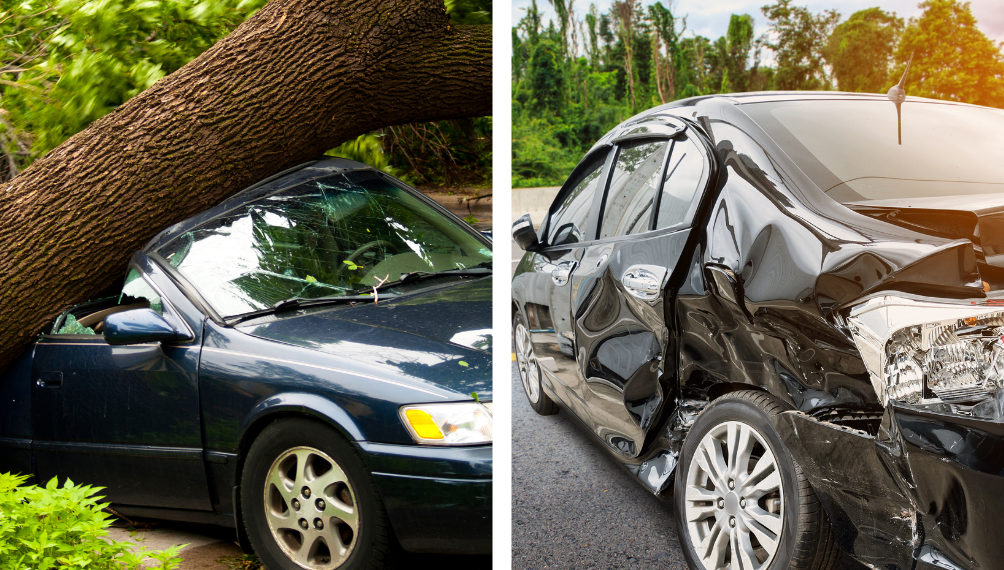 Comprehensive and Collision Insurance Cover Your Vehicle
Both comprehensive and collision insure damage to your vehicle. The insurance company pays up to the "actual cash value (ACV)" of the vehicle, less your deductible. ACV is usually close to market value. The insurance company may declare a vehicle a total loss if the damage exceeds 75% of its value.

---
---
Collision Coverage is Mostly What it Sounds Like
Collision coverage applies when you strike a fixed object or another vehicle. For example,
You crash into another vehicle
Another vehicle crashes into you (even if you don't know who did it)
You back into a post or building
You strike an object in the road
A runaway shopping cart scrapes your vehicle at the grocery store.
You damage your wheel in a pothole
Collision pays the cost to repair your vehicle, up to the Actual Cash Value (ACV).
Comprehensive Insurance Really Isn't
Although commonly called "comprehensive" coverage, you won't find that word in your insurance policy. Its official insurance name is "Other Than Collision". Insurance nerds will correct you, lest you think that it really does cover everything.
But Other Than Collision coverage is pretty broad. It covers most other things that can damage your vehicle. For instance:
Fire
Theft
Vandalism
Glass breakage or cracking
Hitting an animal (that isn't collision, believe it or not).
Flood
Tree branches, flying road debris and other falling objects
Hail
Should You Have a Special Glass Damage Deductible?
Glass damage is part of "other than collision" coverage. In fact, it's the most common kind of comprehensive claim. Replacing a windshield may cost more than you think. That's why many people choose a lower glass deductible. This allows them to save money with a higher deductible for other comprehensive claims, but not pay $1000 for a windshield.
Keep in mind that most insurance companies waive the deductible for glass repairs vs. replacement. Many cracks and chips can be repaired so well that it's hard to detect afterwards.
---
---
Maine Auto Insurance Questions?
If you live or own a business in Maine, contact a Noyes Hall & Allen agent for prompt, professional insurance answers. We offer a choice of many of Maine's top business insurers. In other words, we can help you find the best fit and value for your insurance. Because we're independent and committed to you.