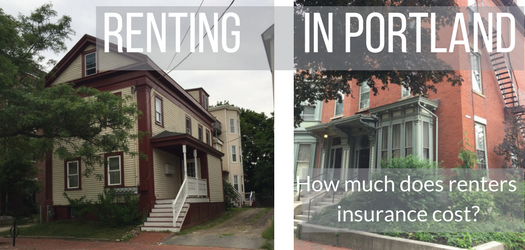 Most Portland Maine landlords require proof of renters insurance before you move in to your apartment, house or condo. That's because the landlord's insurance does NOT cover your belongings against water damage, theft, fire or other perils. They want to make sure that you have coverage for your own stuff. The same goes for your liability. If someone slips on an ice cube in your apartment, the landlord's insurance will not pay for medical bills or lost work. But, your renters insurance will.
How Much Does Renters Insurance Cost?
The price depends on how much coverage you need. The minimum premium for many insurers is $150 to $200 per year. That usually buys you $300,000 of liability protection and $20,000 of personal property (contents) coverage. You can insure an engagement ring on the same policy for a few dollars a year. If you have a lot of stuff, you might spend $300 – $400 for $100,000 of contents. You may save money by bundling your car insurance and renters insurance.
How Long Does it Take to Buy Renters Insurance?
Most insurance agents can quote and bind renters insurance the same day – and often within the same hour. A local agent knows most of the apartment buildings in their area, and can quickly put together a cost-effective program to meet your lease requirement. They can also send proof of coverage to your landlord.
How Do I Provide Proof of Renters Insurance?
Your insurance agent can list your landlord as an "additional interest" so that your landlord automatically gets a copy of your renters insurance every year. This proof doesn't cost any extra, and makes sure that you stay in good stead with your landlord.
If you're renting a Portland Maine area apartment or condo, get a renters insurance quote from Noyes Hall & Allen. We know every neighborhood from Willard Square to Westbrook, Oak Hill to the Old Port, the Eastern Prom to Eastern Village, and the Foreside to Bayside. We work with you and your landlord to make sure you're protected quickly and properly, so you can focus on moving into your new place.
We're independent and committed to YOU.