To celebrate New England's signature season, our Maine independent insurance agency held a Fall Facebook Photo Contest, which drew 29 beautiful photos. Noyes Hall & Allen's 350 Facebook fans decided the winner by "liking" their favorites. First prize was a $100 U.S. Savings Bond; second prize was a $50 U.S. Savings Bond; and third prize was $10 cash.
First Place: Denis Hartley
Our contest winner, with an impressive 70 "likes" was Denis Hartley of South Portland. Denis actually had two photos with the same number of votes, so we've published both here. The first shows two ducks in a pond amid fall colors. The second features a view from Loon Mountain of foliage and a mountain lake.
Second Place – Jessica Lang
The second-highest vote getting photo was taken by Jessica Lang. Jessica lives in New Hampshire, and her winning photo was taken in Penacook, NH. It captures the pure childhood joy of playing in fallen leaves, and features Jessica's niece. Jessica says "she was trying to throw the leaves over her head, but she just couldn't do it. She had a blast playing in the park and getting her picture taken."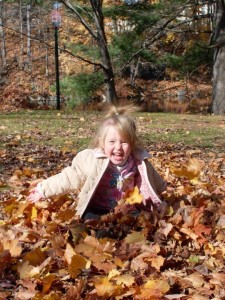 Third Place – Shawna Hall
Third place photographer was Shawna Hall of Durham, Maine. Shawna captured this beautiful foliate scene in Auburn, Maine. To see more of her work, visit Shawna Hall's web site. Coincidentally, Shawna is a licensed insurance agent – just proving that insurance people can have a creative streak, too!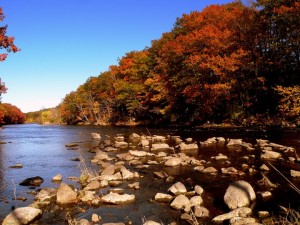 Thanks again to the photographers who captured and shared such beautiful fall images, and to our Facebook fans who voted for them. We hope you enjoyed the contest as much as we did!