Portland Maine is a foodie town. In a city of 65,000, our city hall issues about 600 food prep licenses. Between Beard Award finalists, dining savvy locals and travel magazine-inspired foodie tourists, Portland is a popular – and challenging – town to run a successful restaurant. The stiff competition raises the bar for everyone. There's little room for error or bad luck.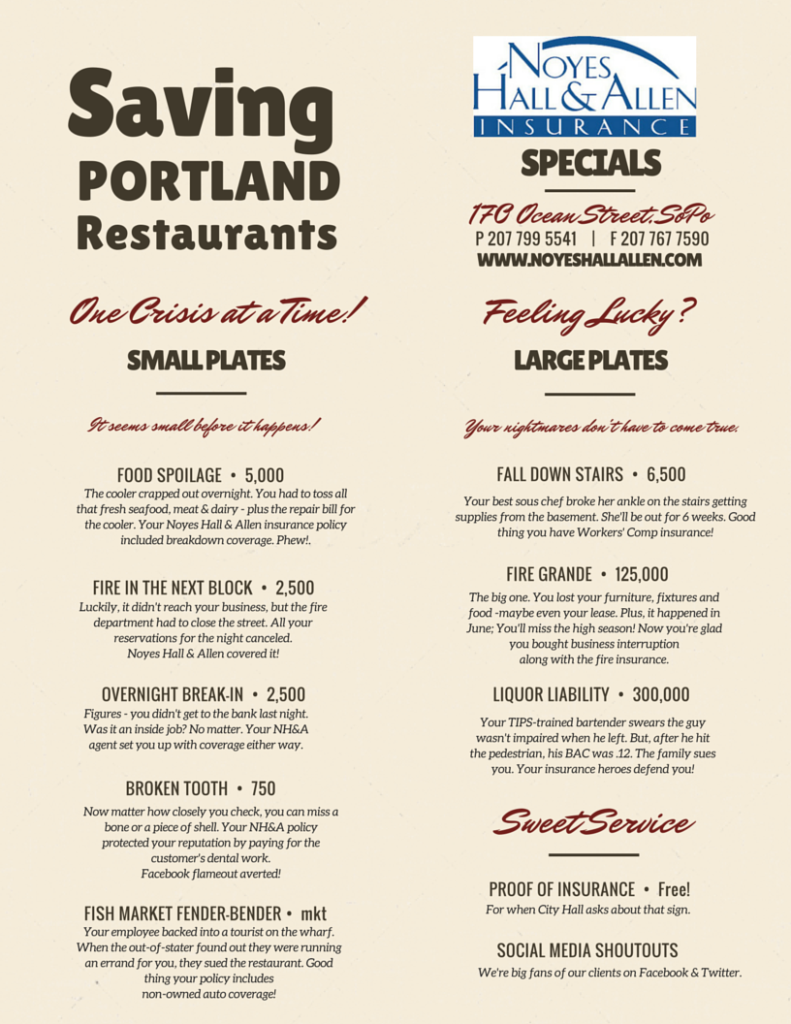 The Unfriendly Fire
You're careful with your life's work. But no matter how often you clean your filters, or get your Ansul and fire extinguishers checked, fire is a threat every day. Oils, high temp grills and gas ranges are a delicate combination. The danger doesn't go away when you close up for the night. Appliances can be left on. Lighted candles can be forgotten. Appliances and extension cords can short out. After a fire, officials will force you to throw out any food for fear of contamination.
The Problem Neighbor
Food bloggers and tourists call Portland "quaint and cozy". What that really means is we're wedged into a tight peninsula. It's not unusual to have 3 or 4 restaurants in one city block – even more in the Old Port. Plus, apartments and offices above. No matter how careful you are, you can be done in by one of your less careful neighbors. A frozen pipe upstairs that leaks into your dining room, or a fire up the block can shut down YOUR restaurant.
CLOSED, for…?
Diners are fickle. If you're off line for just a few weeks, even your regulars can find a new spot in a restaurant town like Portland. It can take months – or longer – to get business back to pre-shutdown levels. Meanwhile, you have bills to pay. An estimated 25% of businesses never re-0pen after a disaster. In the restaurant business, that's probably a lot higher.
The Difficult Diner
No matter how good your restaurant is, not every customer experience is flawless. It isn't always food-related. People can trip on a carpet or fall on stairs or on the sidewalk. They don't even have to be your customers. Someone can be injured in your parking lot. Of course, the food business has its own unique hazards. A customer's stomach flu can sometimes become "food poisoning"; a broken tooth attributed to a piece of shell in their meal. It's expensive to defend against these accusations – and expensive to make the situation right if you were in the wrong.
Drinking and…?
Most Portland restaurants have a full bar or good beer and wine list. Alcohol sales can be the difference between a profit and a loss. Of course there are plenty of regular bars in town. That means your diners may have drinks before they arrive at your place, and more after leaving. If they get into an accident on the way home and are found to be over .08, people they harm might sue any business that served the negligent driver. Even if you're blameless, that lawsuit can be expensive to defend.
Restaurant Insurance to the Rescue
A thoughtful Maine restaurant insurance program can protect your business from all of these nightmares and more. Insurance may not make your worries disappear, but it can help you sleep better after a long night's work. And, it can keep a terrible day at work from destroying your business. If you own or run a Portland Maine area restaurant, food truck, bakery or other food prep business, call a Noyes Hall & Allen Insurance agent at 207-799-5541. We'll work with you and your budget to keep your nightmares at bay, so you can focus on what you love most: creating great food.