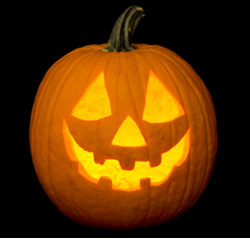 Sunday is Halloween: the spookiest – and maybe most dangerous – night of the year.  Every year, we hear reports of accidents, injury, or property damage that occur on October 31. Here are 10 quick tips to keep your family and property safe.
Keep Visitors Safe
Kids' costumes often reduce visibilty, and are bulky. In their rush for the goodies, trick-or-treaters also like to cut across yards instead of using the sidewalk.  Plan accordingly.
1) Remove the glass from your storm door, so the kids don't have to back away as you open the door to pass out treats.
2) Keep your stairs and sidewalks free of loose or broken pieces and other irregularities.
3) Secure  electrical cords for your outdoor displays so they are not a tripping hazard.
4) Replace any burned-out outdoor bulbs before Halloween night.
5) Keep pets inside, and away from the door. Halloween is one of the most stressful nights of the year for dogs. Between the repeatedly ringing doorbell and the strange costumes, even the best-tempered dog can be on edge.
6) Drive more slowly and carefully than usual. Be extra alert for dashing children, who may be wearing dark costumes. And – of course – drive sober!
Protect Your Property
7) Park vehicles in the garage, if you have one.
8 ) Sit outside to give out candy. This allows you to keep an eye out for any trouble.
9) Turn on floodlights to illuminate your yard.
10) Keep jack-o-lanterns away from flammable material (especially childrens' costumes)!
We wish you a safe and happy Halloween! But, if you need to report a claim on your auto insurance, homeowners insurance or business property insurance, contact Noyes Hall & Allen at 799-5541.