It's a good idea to compare car insurance quotes periodically. Rates change frequently. The company that was the best value years ago might no longer be.
Car insurance is a big item in many budgets. Saving 5 or 10% can mean $100 or more. So what's the best way to shop for car insurance?
Step 1: Gather Information from Your Policy
You'll need:
Vehicle description, including VIN;
Driver information (dates of birth, license numbers);
Details about claims, accidents or violations in the last 5 years;
Current coverage limits and deductibles.
Step 2. Decide Where to Get Your Quotes
You have 3 basic options for insurance quotes:
DIY – go online or call an 800 number. You'll get one quote at a time from a company like GEICO or Progressive. You'll need to call a few agents to get comparison quotes.
A company agent, like Liberty Mutual, State Farm or Allstate. You'll still get only one quote. That means you'll have to call several to compare. But unlike the DIY option, an agent will be able to offer custom advice and answer your questions.
An independent agent, like Noyes Hall & Allen. They provide custom advice and answers like a company agent, with the added convenience of quotes from several insurers at once.
Comparing quotes from different car insurance companies isn't easy. Each company's presentation looks a little different. Some may not offer the coverage limits you asked for. And they may not even tell you that it's not the same.
Step 3: Compare Car Insurance Quotes
This 6:40 video explains what to look for, and what to watch out for.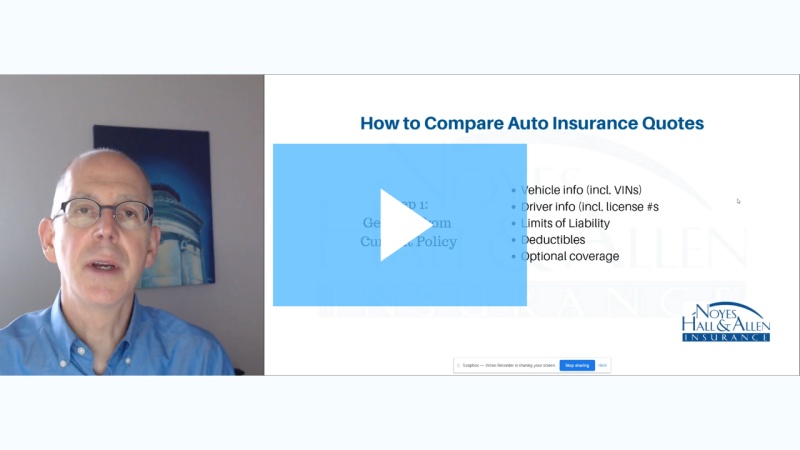 We Help You Compare Car Insurance Quotes
If you live in Maine or are moving to the Portland Maine area, a Noyes Hall & Allen Insurance agent can help. We represent many of Maine's top auto insurers. We can explain coverage and price differences to help you find the best insurance value. We're independent and committed to you. Call us at 207-799-5541, or start an online insurance quote in 10 minutes.