We're pleased to introduce a new feature for clients of Noyes Hall & Allen Insurance. Now, you can access policy documents and information from our secure web site, 24 hours a day, 7 days a week. Lost your Maine auto insurance card? Want to check on your coverage at night or on the weekend? You can log on easily and get the information you need in two minutes or less. Here's how.
Step 1 – Visit NoyesHallAllen.com

Look for the "My Account" icon on the upper right of the page (or in the list on a mobile phone). It opens to a drop-down menu. Select an option.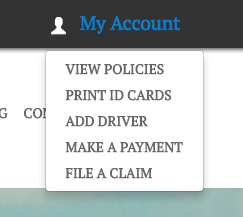 Step 2 – Log In Using Your Email Address
You must use the email address that our agency has on file for you. This is usually the one that we have emailed correspondence to in the past. Let us know if we should use a different email address.
Step 3 – Log In With a Secure Verification Code
This is sent instantly to your mobile device or your email address. This code helps keep your personal information in your hands alone. It expires after 5 minutes.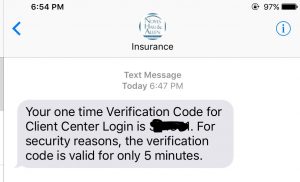 Step 4 – Choose the Policy or Documents You Want
The default view is "policies. This allows you to view the details of your coverage by clicking "view policy" below the snapshot.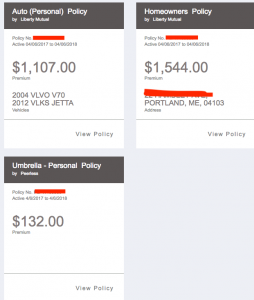 Note that there's an option to switch to "documents" as well as the default "policies".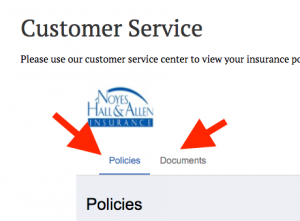 If you want to download your insurance cards, choose "documents" click "download" on the right. You can print or save them to your device from there. By law, Maine Bureau of Motor Vehicles, city and town halls and law enforcement officers accept electronic proof of insurance. You aren't required to produce a paper copy.

We hope that you enjoy the convenience of 24/7 access to your insurance policy information.
Please note:
1) Most insurance companies share their information with us electronically in a compatible form with this feature. If your documents aren't available, call us and we can send them to you.
2) The policy information on the Client Center is a very simplified recap of your policy. You may have purchased endorsements that the Client Center can't show, so your coverage might be different. Your insurance policy is always the definitive document of your insurance coverage.