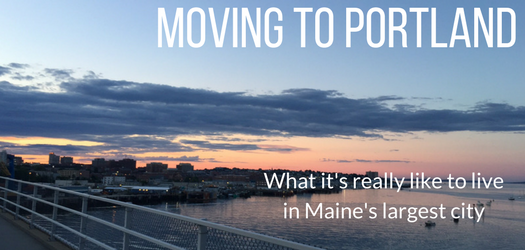 Small enough to navigate and make friends easily. Large enough to have plenty of live music, arts and sports. Hundreds of restaurants and almost 20 breweries, Portland Maine is one of America's hottest little cities. It's a regular on "best of" lists from publications as diverse as Men's Journal, Elle Home Decor , Conde Nast Traveler and Time Money. But what's it REALLY like to live in Maine's largest city?
---
What's it Like to Live in Portland Maine?
It's easy to fall in love with Portland by walking its charming brick streets, eating fresh seafood, and drinking even fresher beer. You can find plenty of flattering and glowing reviews of Portland from locals and travelers alike. But what's it like to really LIVE here?
Like most cities, Portland is a city of neighborhoods. Each has its own quirky vibe. This cheeky map by a local resident gives you a light-hearted taste of the personality and characteristics of each: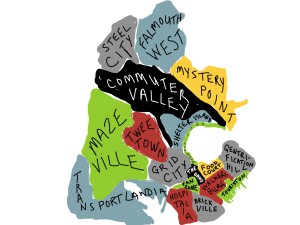 Do I Need a Car in Portland Maine?
Unless you live and work on the downtown peninsula, and can walk 1-2 miles with your groceries, you'll probably need a car. Like most vibrant cities, parking spots can be scarce. Fortunately, it's easy to walk anywhere on the peninsula.
The Metro bus  is Portland Maine's public transportation.  If you're from a bigger city, you'll find that buses arrive less frequently than you're used to. UHaul car-share service has about 8 vehicles on the peninsula. Uber and Lyft operate in Portland, and there are several taxi companies. Our airport (PWM) and Transportation Center are both very close to the city (see "Transportlandia" on the map above). The Amtrak Downeaster and Concord Trailways bus both loop to Boston several times daily. Concord also has a bus to New York City.
Cycling is a popular way to get around (the Portland Bike Commuters Facebook Group has almost 500 members). Maine has some of the most bike-friendly laws thanks to the efforts of the Bicycle Coalition of Maine. You can bike year-round here, although cyclists' numbers dwindle during our long winters.
---
Related Post: Portland Maine: Green Living in a Small City
---
How Much Do Apartments Cost in Portland Maine?
Portland is cheaper than Boston or New York, but it's still a landlord's market. Like many popular cities, Portland has had  a very low vacancy rate and a shortage of good apartments. But about 1000 new rental and condo units have been built or planned to meet the demand. Here's a "heat map" of Portland Maine rents in October 2015: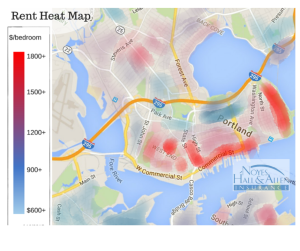 The Portland Press Herald recently produced a very cool series of interactive maps of Portland Maine in 2015, showing rents, demographics and lifestyle features of Portland neighborhoods.
Looking for short-term rental between October and May? You might score an off-season cottage rental on one of Scarborough's beaches or a nearby Casco Bay island (serviced by Casco Bay Lines). Off-season rentals can be a bargain – probably the cheapest you'll ever pay to live close to the ocean.
Whether you rent an apartment or a cottage, we recommend that you buy Maine renters insurance to protect your property from damage and theft, and you from liability.
---
---
Can I Afford a Home in Portland Maine?
Portland's home and condo market is strong. This reflects the desirability of the area and availability of jobs in Portland. The area has a wide range of housing stock, from old to new, townhouses to ranches, contemporaries to lofts. The median sale price in the Portland market in 2016 was $262,000 ($193 per square foot) for homes, and $269,550 ($280/SF) for condos, according to MREIS. Average prices for each were about $40,000 higher, due to the high price of some prime properties. Median pricing increased 7.3% from 2015.
Where Do I Park My Car in Portland?
As in most vibrant cities, parking is a premium commodity in Portland Maine. If your apartment doesn't offer off-street parking,  get a free residential parking sticker for the area in which you live. This exempts you from 1-or-2-hour time zones on streets near your home. The stickers DON'T exempt you from parking meters, no parking zones, overnight parking, loading zones, etc.
The most hassle-free way to get to local businesses & restaurants is on foot or bike. If you must drive, the city of Portland Maine operates parking meters and pay and display parking stations . Hot tip: Portland Maine metered street parking is free after 6pm and on Sundays.
Portland has several public and private parking garages ($2.00 – $4.00 per hour). There are also private pay-and-display lots, which are NOT operated by the city. These have been controversial, as they will boot your vehicle if you leave your vehicle too long.
Parking Bans in Portland Maine
During winter storms, the city of Portland Maine parking bans to allow public works crews to clear the streets and remove snow. During a Red Parking Ban, no one can park on city streets. This means you! Don't ignore the ban; your vehicle WILL be towed, and it's an expensive hassle to retrieve it.  Here's a list of where to park during a snow ban.
How Soon Do I Need to Register My Car After Moving to Maine?
You should re-register your car in Maine and get a Maine driver's license within 30 days after moving here.  Here's are the 3 steps to register your vehicle in Maine after you move here:
---
Related: How & When to Register a Car in Maine
---
Settling In
It's easy to find arts, sports and cultural events in Portland Maine. Another great way to meet new people is to get out and enjoy the outdoors, learn more about our area, or to volunteer. Here are links to some of our favorites:
We hope you find this information useful as you think about moving to Portland Maine. Greater Portland has been our home for more than 80 years. We love it here. If we can help with insurance in your new city, please contact a friendly local Noyes Hall & Allen agent at 207-799-5541.