If you've recently begun looking for a home in Maine, or have recently put one under contract, you'll soon be looking for Maine homeowners insurance. If you will have a mortgage, your lender will pester you for the name of your insurance agent and the cost of your insurance.
Insuring your new home is a simple 4-step process:

1. Put your home under contract
2. Get a home inspection
Your realtor can introduce your to a reputable home inspector. They almost always point out some deficiencies, possible trouble spots, or upcoming maintenance items. It's up to you whether you negotiate who pays for these with the buyer, or include them into your early home improvement budget. Don't ignore them, though. For example, if the inspector tells you that your roof shingles have less than 5 years remaining life, set aside the cost to replace it within that time.
3. Contact an Insurance Agent
You'll want to get a Maine homeowners or condo insurance quote for 100% of the rebuilding cost to satisfy your lender. The agent will use real estate and property tax info and ask a few questions about your home to help determine the rebuilding cost.
The agent will also ask how recently the home systems were updated (plumbing, heating, electrical and roof). Your home inspection will be handy in providing this information.
If you live in southern Maine, a Noyes Hall & Allen agent would be happy to help you with insurance quotes. We represent many different insurance companies, so we can shop the marketplace for you. Different insurers have different appetites, strengths and rates. We can also help you choose appropriate deductibles and insurance programs to fit your needs and budget.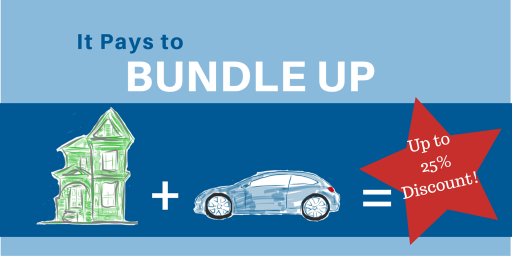 Bundle Up
It often makes sense to bundle your insurance with one insurance company. Most Maine insurers offer discounts when you insure your home and auto together. The savings can be substantial – up to 25% in some cases.
4. Show proof of insurance to your lender
Once you introduce your insurance agent to your closing attorney (usually a title company), you shouldn't have to do any work. Your agent and the title company will make sure the lender is satisfied. You can focus on getting ready to move into your home!
A Note About Escrow Accounts
If you escrow your insurance, lenders require you to pay the first year's premium up-front – either to your insurance agent, or at closing. The lender collects a couple of months' insurance and tax at closing to "seed" your escrow account. You'll then pay 1/12 of those amounts along with your monthly mortgage payment. The insurance and tax bills will go to your lender, not to you.
If you have questions about Maine home, auto or condo insurance, contact a Noyes Hall & Allen Insurance agent in South Portland at 207-799-5541. We're independent and committed to you.