Daylight Saving Time begins Sunday. The first day of Spring is less than 2 weeks away. Mainers are thinking Spring. And, after our first "typical" winter in a several years, many Maine homeowners and businesses worry about flooding.
As Mainers ski, snowmobile or snowshoe all winter, we know that snow has to go somewhere when it melts: Maine rivers and streams. Usually, those bodies of water can hold the runoff. But if snow melts too quickly or is accompanied by heavy rains, flooding happens. And it happens regularly, sometimes with devastating results, such as the Maine Floods of 1987 or the Aroostook County Floods in 2012. Those are the big events, but MEMA Flood Forecasts hundreds of smaller events every year, which can be just as devastating if they strike your property.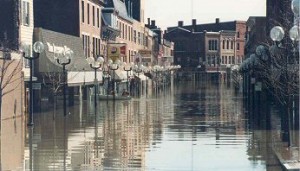 Every year, our Portland Maine area insurance agency takes calls and emails  from home owners anxious to buy Maine flood insurance in the face of imminent danger. Unfortunately, many don't know that homeowners and most business policies do not cover flood damage. Flood insurance is a government-regulated program of the Federal Emergency Management Agency (FEMA).
Four Things You Need to Know About Flood Insurance
There's a 30-day waiting period.  Unless you are buying property, there is a 30 day waiting period before coverage takes effect.
Every Maine property is in a "flood zone". Riverfront or oceanfront properties are in "special hazard zones", but flooding can happen anywhere. In fact, FEMA reports that 1 in 4 NFIP claims come from areas with a low or moderate risk of flooding. Your local insurance agent can tell you the flood zone for your particular property.

The maximum payout under a flood policy is $250,000 (for your building) and $100,000 (for its contents) If you need more coverage, you can purchase excess insurance.

If you don't have coverage for a flood loss, don't expect a bailout from Uncle Sam. Although you might be eligible for a federal disaster assistance loan, you'll have to repay it, with interest.

One of your assets probably IS insured for flood: your vehicle. "Other Than Collision" coverage does include flood damage. Check your policy to see if you purchased that.
If you are in Southern Maine and have questions about Maine business insurance or insuring your Maine property, contact Noyes Hall & Allen Insurance in South Portland at 207-799-5541. We're independent and committed to you.