Clients often ask if their homeowners insurance covers their belongings when they're away from home. Here are 3 recent email inquiries with common scenarios:
I have removed some furniture and other items that were at my condo and am storing them at a warehouse.  Is my stuff is covered under my condo insurance, or do I need to insure the stuff through the company that is storing the items?
I've rented a self-storage unit for some of items that I don't have room for in the garage. Are these items covered while they're in storage?
I'll be renting a condo in Florida for the month of March. Are my belongings covered when I'm away from home?
This infographic spells out the coverage found in most Maine homeowners insurance policies. Your coverage may differ, so check with your Maine insurance agency.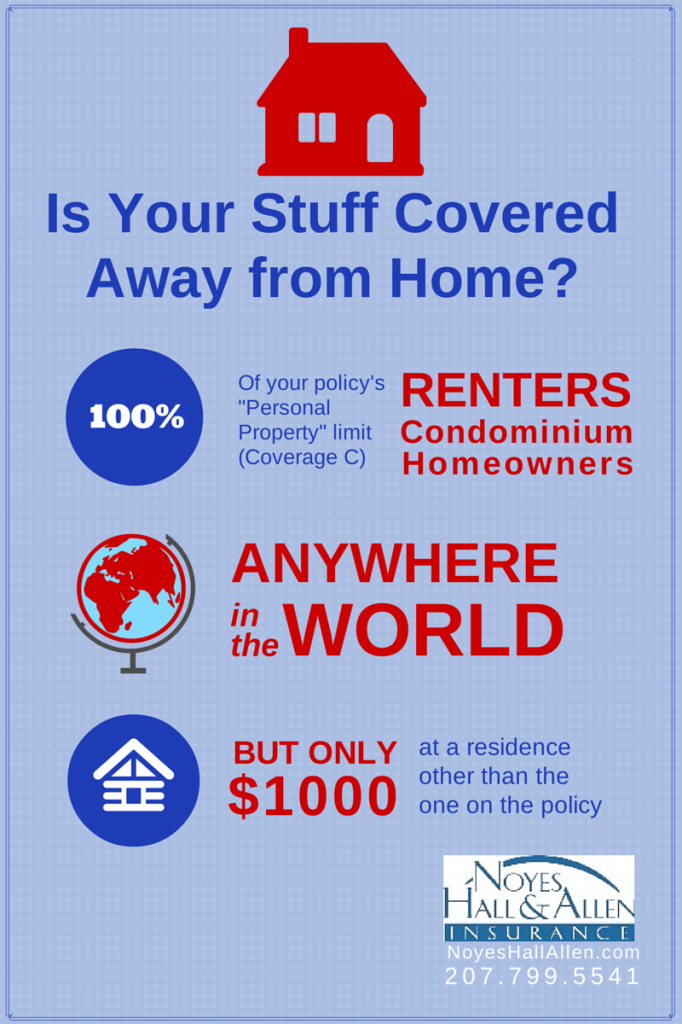 In general, your belongings are covered to 100% of your Personal Property (Coverage C) limit on your Maine condominium, renters or homeowners policy. It doesn't matter where they're located, anywhere in the world.
The only exception is if they're at a residence of yours other than the one listed on your policy. Then, it's only covered to 10% of your Personal Property limit, or $10,000, whichever is LESS. Presumably, the personal property at that residence would be covered by another homeowners, renters or condo policy.
Keep in mind that certain types of property, such as jewelry and silver, have limited coverage on most policies. Talk to your agent about insuring jewelry on a homeowners policy.
If you need insurance in Greater Portland Maine, contact Noyes Hall & Allen Insurance in South Portland at 207-799-5541.We're independent and committed to you.