Transportation Network Companies (TNCs) have quickly become part of the landscape in American urban and vacation areas. Portland, Maine got its first Uber service in 2014. Almost immediately, people questioned whether Maine insurance companies exclude coverage for Uber.
The Maine State Legislature regulated TNC insurance by passing LD 1379, "An Act To Establish Transportation Network Company Insurance", effective June 03, 2015. Key features of the law specify:
How much liability insurance TNC drivers must have while logged into the network and not carrying passengers (matching Maine state minimum auto liability insurance limits of $50,000 per person/$100,000 per accident for bodily injury/$25,000 property damage).
How much liability insurance they must have while carrying passengers ($1,000,000 bodily injury and property damage).
That personal auto insurance companies are NOT required to cover TNC drivers while they are logged into the network.
BEFORE You Sign up to Drive for Uber, ASK:
Does the TNC provide insurance for you while you're logged in to the network? If so, at what limits? Do those limits change when you pick up passengers?
Does your personal auto insurance cover you when you're logged in to the network? Ask your agent.
Does your auto loan or lease allow you to transport passengers or goods for hire? Many vehicle finance agreements prohibit it. If you do, the bank could consider you in default even if your payments are up-to-date. Read your loan or lease agreement, or ask your lender.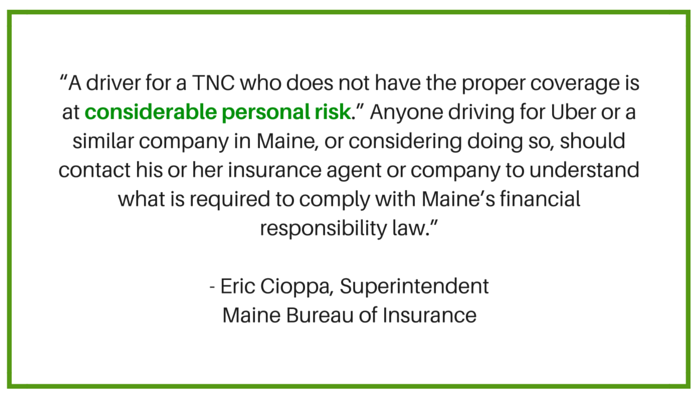 Our Advice
Most insurers EXCLUDE coverage any time you're logged into a TNC network, whether or not you have a passenger. For answers to your insurance questions, call your insurance agent.