The Uninsured Motorist coverage in your Maine auto insurance policy also protects you against uninsured and underinsured drivers. If someone hits you – their fault – and they have no insurance, your policy acts as if they had the same Bodily Injury liability limits you do, and pays for your bodily injuries, and those in your vehicle. It's the same if the at-fault driver had low liability insurance limits, and you bought higher ones.
Isn't Insurance Mandatory in Maine?
Yes, in Maine, car insurance is mandatory – at least liability insurance. Maine DMV requires proof of insurance to register your car. So everyone's insured, right? Not really.
An estimated 4% of Maine drivers are uninsured – and that's the 2nd best rate in the country. The Insurance Research Council estimated that nearly 14% of U.S. drivers had no car insurance at all.
Repairing Your Car
If you are hit by an uninsured driver, you'll have to rely on your own policy's collision coverage to repair your vehicle. That's assuming that you have collision coverage on your vehicle. If not, you're on your own to repair or replace your vehicle.
But that's only half the story: what about the people who buy state minimum liability limits? Maine's minimum limits are only $50,000 per person, $100,000 per accident, and $25,000 property damage. Is your vehicle worth more than the $25,000 minimum limit? What if the at-fault driver hits more than one vehicle? The minimum-limits driver's policy only pays a total of $25,000 for all damage.
Out of Staters and Uninsured Motorist Coverage
Mainers are a pretty honest bunch. 96% of them carry at least minimal liability insurance. But what about people "from away"? What's that nickname on Maine's license plates again? Oh yeah…

Most of our out-of-state visitors are from the northeast, right? Click on the map below to enlarge it, and you'll see that of the 10 states within an easy day's drive of Maine, 2 do not require drivers to buy insurance AT ALL. Six more require per person Bodily Injury limits of $20,000 or less.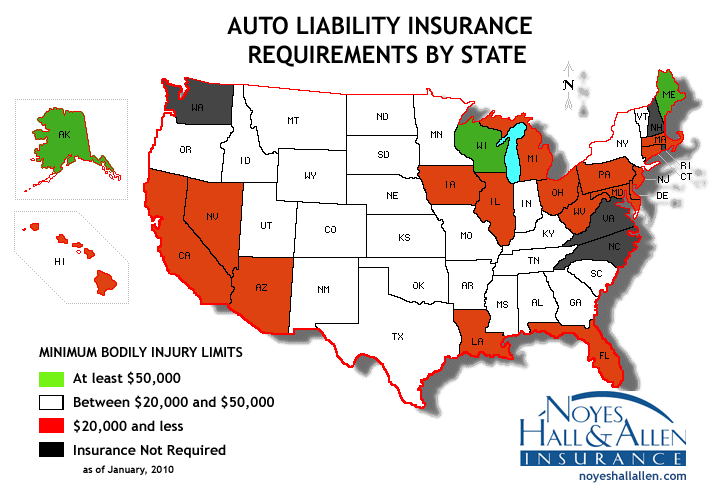 In Maine, Uninsured Motorist Bodily Injury coverage limits almost always match your own liability limits. If you have less than $500,000 per person in bodily injury coverage, and your agent hasn't recommended that you increase your limits, maybe it's time to contact Noyes Hall & Allen Insurance at 207-799-5541. We represent several different insurance companies, and will help you find the best value for your individual situation.