Does Your Auto Insurance Protect You?
Many Maine drivers are thinking about making some extra cash by driving for rideshare companies like Uber and Lyft. They often ask us if how their personal auto insurance company would respond.
Personal Insurance Does NOT Cover Rideshare Driving
As soon as you turn on the app and make yourself available to pick up a guest, you turn OFF your Maine auto insurance policy – at least all of the policies we're aware of. Your insurance company should deny any claim – collision, liability, uninsured motorist, medical payments, rental or towing – that occurred while you were available for hire or driving a customer.
Do Uber and Lyft Insurance Policies Protect Maine Drivers?
Knowing that personal insurance policies do not cover livery (driving for a fee), rideshare companies have obtained blanket insurance policies to cover their drivers. Most companies seem to be insured with James River Insurance, based in Richmond, VA, and rated A- by A.M. Best. These policies cover you pretty well when you're carrying a customer – but not when you're simply available and waiting for a customer request. This chart shows when coverage applies, and how much.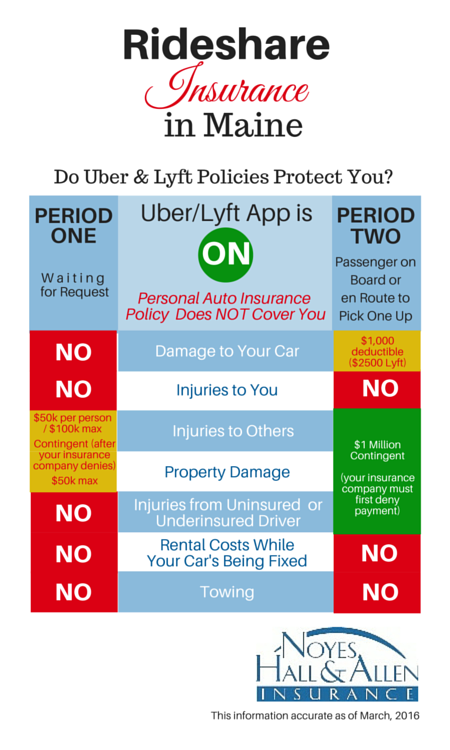 What are the Risks of Being an Uber Driver?
As you can see from the chart above, the insurance provided by Uber, Lyft and similar companies leave important gaps that could cost you a lot – especially in Period One, when you have the app on and are awaiting a ride request.
DURING "PERIOD ONE":
Injury from an uninsured or under-insured driver. If you are waiting for a ride request and someone rear-ends you at a stop light, their liability insurance should pay for the damage to your car, and your medical bills and lost wages. But, what if they have no insurance – or not enough? Uber and Lyft policies do not pay anything to repair your car. And, because their uninsured motorist coverage drops to state minimum limits during that time, you would have little or no coverage for your medical bills.
Liability to Others for Injury or Property Damage. Imagine you're waiting for a ride request. You decide to stop for a coffee. When you pull in, you accidentally step on the gas instead of the brake, plowing into the front of the coffee shop. Your rideshare insurance will only cover state minimum liability limits for injuries to others or damage to property. Because your personal auto policy doesn't cover you during this time, you're out of luck if damages are higher. You'll be responsible for paying for the damages. That could mean a lot of fares in your future just to repay the damage.
Damage to Your Car. Rideshare insurance policies don't pay for damage to your car from crashes, vandalism, theft or fire. If you have a loan on your vehicle, you could find yourself making payments on a car you cannot drive. And you won't be able to make more money via driving since your vehicle is out of commission.
Your Insurance Company Might Cancel Your Policy. Many drivers fail to notify their auto insurance company when they start to drive for a rideshare company. And for good reason: even though they don't cover your rideshare activities, insurance companies generally don't like the idea. Your vehicle is on the road a lot more, possibly at odd hours and unfamiliar locations. Even if you're driving a customer and have collision coverage under the Uber or Lyft insurance policy, they require you to first report it to your insurance company and be denied coverage. That can be an uncomfortable conversation, and it can attract the attention of the insurance company, which may then cancel your personal policy.
Know the Consequences Before You Become an Uber Driver in Maine
It's tempting to make some extra money during your spare time. Just know that the opportunity comes with risks. Rideshare companies are eager to sign up new drivers, and may gloss over the risks and limitations of their insurance program. Make sure you understand them before you get behind the wheel for a rideshare company.
If you have questions about your Maine auto insurance, contact Noyes Hall & Allen Insurance in South Portland at 207-799-5541. We're independent and committed to you.