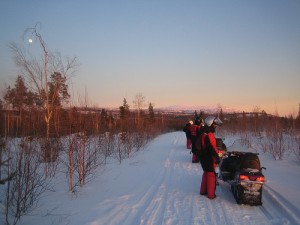 It's that time of year again, when clients' questions turn away from boat and recreational vehicle insurance to snowmobile insurance. Here are some of the most common questions we hear:
How much does is cost to insure a snowmobile in Maine?
It depends. Some snowmobile insurance costs less than $80 a year (liability only on an older 500 cc sled with no young operators). Other clients pay almost $900 a year (3 newer 800 cc machines with collision coverage, and younger operators).
What Snowmobile Insurance Discounts are Available?
Depending on the insurance company (as an independent insurance agent,we represent several), you may earn
Maine snowmobile insurance discounts
for:
A good driving record
No claims in the last 3 years
Completing an approved safety course
Owning a home
Insuring your autos and snowmobiles with the same company
Paying your premium on time.
Belonging to a snowmobile club.
How Do I Insure My Snowmobile Accessories?
If you buy physical damage (collision and "other than collision") coverage on your machine, you can usually insure accessories such as electronics and radios, trailers, custom paint, exhaust, seats, backrests and windshields – even plow blades and winches. If you tell your agent about these items, they will be able to include them in your snowmobile insurance quote.
Which Company Has the Lowest Snowmobile Insurance Rates in Maine?
No insurer is consistently under-prices all the others. Some companies are better on fast sleds. Some prefer touring models. Still others have a great price if they insure your home, auto and other assets. It's a good idea to compare. Even better, find a Maine independent insurance agent who represents several insurance companies. They can do the shopping for you!
For answers to your insurance questions, or for a Maine snowmobile insurance quote, contact Noyes Hall & Allen Insurance at 207-799-5541.