New car shoppers have an updated tool to help them compare the safety of various vehicles, and earn car insurance discounts. The Department of Transportation announced yesterday their revised 5-Star vehicle safety rating system.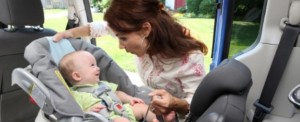 The 5-Star rating is much more difficult to earn under the new standard. Only 2 of  the first 33 vehicles crash-tested achieved the top score, compared to 99 that received 5 stars last year. The two vehicles were the BMW 5 Series and the Hyundai Sonata.
Crash test ratings are about more than manufacturers' bragging rights. The safest cars can reduce your Maine auto insurance quote. Auto insurers offer discounts for anti-lock brakes, air bags, and other safety features.
Although many factors determine car insurance costs,  the price to protect two vehicles  with similar MSRP's can vary depending upon those discounts. The Department of Transportation provides excellent auto safety information at safercar.gov.
You can get Maine auto insurance quotes from four competing insurers from Noyes Hall & Allen Insurance . For more information, Contact Noyes Hall & Allen at 207-799-5541.