Recent changes proposed by FEMA have put flood insurance in Portland, Maine on the minds many. Every property is in a flood zone, and has the possibility of suffering flood damage. Some properties are in "special hazard zones", which means that they are more susceptible to flood. Lenders usually require borrowers to buy flood insurance as a requirement of getting a mortgage for these properties.
If you're wondering what flood zone your property is in, there is a free tool available at FreeFlood.net. It's a database of the flood zones of 100 million U.S. addresses. Simply enter your address, and instantly see flood zone information, along with a "flood meter" reading.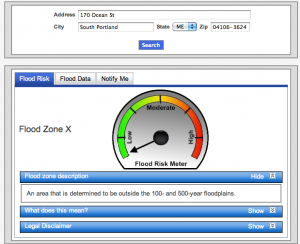 If you're buying a home or commercial property in Maine , this is a great tool to help you budget your property insurance costs. For more information about homeowners insurance, business insurance, or flood insurance, contact Noyes Hall & Allen Insurance at 207-799-5541.
Special thanks to Steve Anderson of Steve Anderson's TechTips for introducing us to this useful tool. Steve's blog is a great educational resource for Maine insurance agents like us.