As a Portland Maine insurance agent, we insure lots of homes, condos, vehicles and businesses. We thought it might be fun to share some facts about vehicles we insure. While our clients may not be a statistically accurate sample, we think they give a pretty good indication of what vehicles are most popular in the Portland Maine area. It's also kind of interesting to see some trends by model year.
Top 10 Vehicle Brands in Portland Maine
If Noyes Hall & Allen Insurance clients currently are typical, the top 10 auto makers capture almost 75% of the market. The "big three" alone are 38%.
TOYOTA – 15.2% market share
FORD – 11.5%
HONDA – 11.3%
CHEVROLET – 9.1%
SUBARU – 8.8%
VOLVO – 4.0%
NISSAN – 3.9%
HYUNDAI – 3.4%
VOLKSWAGEN – 3.3%
JEEP – 3.3%
What are the Best-Selling Vehicles in Portland Maine?
This graphic shows which auto maker appears to have sold the most vehicles in each of the last 5 years, based on vehicles our clients own.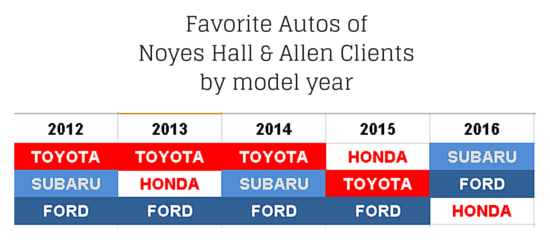 It's interesting to note that Ford is the only auto maker always in the top 3. Toyota rode a wave of #1 but seems to be fading a bit. Subaru is off to a fast start with 2016 models. Will they sustain the momentum for the whole year?
How Long do Portland Maine People Keep their Vehicles?
The median model year of vehicles our clients own is 2008. So the average person keeps a car for about 8 years. Which side of average do you fall on?
0-4 YEARS OLD – 22.1% (2013 to 2016 model year)
5-8 YEARS OLD – 30.1% (2008 to 2012 model year)
8-12 YEARS OLD – 28.0% (2003 to 2007 model year)
Older than 12 YEARS – 15.8% (2002 model year and older).
---
When is the right time to drop collision coverage from your car? Click on the link to read our blog post answering that question.
---
The Most Popular Vehicle on the Road in Portland Maine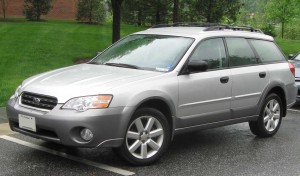 Despite being only the 5th most popular vehicle brand among our clients, Subaru has the top two models when you look at all vehicles on the road. The Subaru Outback is #1 by far, with the Subaru Forester #2. The Toyota Camry is right behind the Forester at #3. These top 3 vehicles represent more than 10% of the vehicles our clients own.
UPDATED: August 2017
The trends continue in 2017. Subaru seems to remain super popular in Portland Maine. Foreign models continue to dominate the top 5. So do 4X4 vehicles. Ford pickup sales appear to rise and fall, maybe with the economy or gas prices? The Nissan Rogue looked to be picking up steam in 2016, only to fall off the leader board in 2017.

Whatever you drive, if you live in the Portland Maine area and would like a review of your auto insurance, contact Noyes Hall & Allen at 207-799-5541. You can even get 7 Maine auto insurance quotes online in 10 minutes. Of course we also insure homes, condos, apartments, boats, motorcycles, businesses and more. We offer a choice from Maine's preferred insurance companies. We're independent and committed to you.