The National Association of Insurance Commissioners (NAIC) recently released their annual report of  Workers' Compensation results, and the picture isn't pretty.
Payroll Reductions
Maine business insurance agents already know that their clients struggled to balance expenses with revenues reduced by the recession. Between layoffs, furloughs and attrition, reduced payrolls caused U.S. workers' compensation premiums to drop 11.4% from 2008 to 2009.  While a slight reduction in rates caused some of that decrease, most of it was payroll-driven.
New England fared slightly better than average, with a 10.8% decrease. Our state actually did better than New England. Maine workers compensation insurance premiums were 10.2% lower in 2009 than 2008.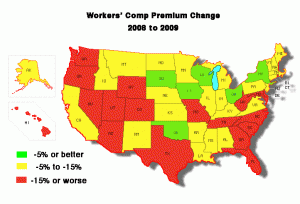 Increased Losses
The workers' compensation loss ratio (losses incurred to premium earned) increased nearly 7% in 2009. Although not uncommon during an economic recession, this is not a positive sign for the health of the workers' comp insurance market. The New England states' pure loss ratios were worse than average, at 73.1%.  Maine's pure loss ratio was better than the New England average, but worse than the national average, at 70%.
The Maine Workers' Comp Forecast
Most insurance analysts believe that the workers' comp market is in a precarious position. Relatively good loss ratios are deteriorating, and the uncertainty of national health care reform, medical cost increases, and employment and economic growth (or lack thereof) concern underwriters. The result may be upward pressure on Maine workers' comp rates over the next few years. That's bad news for employers.
If you have questions about your Maine workers comp experience modification, workplace safety, or workers' compensation insurance in general, contact Noyes Hall & Allen Insurance at 207-799-5541.