The number of Maine homes sold increased by 22.74% in September compared to the same month last year, the Maine Association of Realtors reported last week. While the Median Sales Price declined 6%, prices seem to be rebounding a bit. The decline in Median Sales Price indicates that homes in lower price ranges were moving faster than larger, more expensive homes. This is likely due to the influx of first time homebuyers responding to the government stimulus rebate program.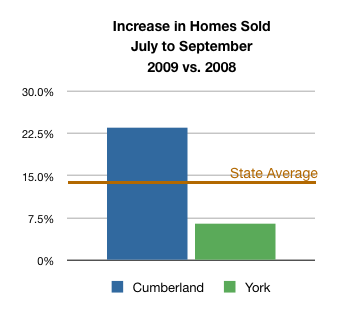 September's results were the best of the quarter. From July through September 2009, 14.7% more homes sold compared to 2008, with the Median Sales Price 9.6% lower than last year. Cumberland County performed slightly better; 23.55% more homes sold this year, with a 6.1% drop in Median Sales Price.
First Time Home Buyers Must Act Soon!
Realtors report that first time homebuyers are driving the market, aided by government stimulus tax credits. Unless extended, this program will expire soon. Home sales must close before November 30 to qualify for the plan.
In our South Portland insurance agency, we've seen a similar trend. Many of  the homeowners insurance quotes we've delivered this summer were for first time homebuyers. We take extra time to help the new home owner understand homeowners insurance, closing costs and escrow procedures. We also work with lenders to make sure that there are no surprises at closing. Contact Noyes Hall & Allen Insurance for a no-obligation consultation: 207-799-5541.
Download the Maine Association of Realtors' press release.