Halloween is a lot of fun, especially for children. It is also one of the most dangerous nights of the year. Here are 7 tips to make sure the scares remain all in fun.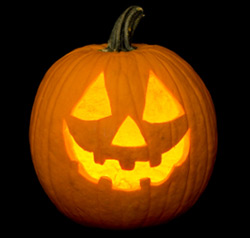 For Trick or Treaters
Be Visible – Carry a flashlight; apply light-reflecting material to costumes.
Stay Together – Travel in groups, stay in well-lit areas and cross only at corners – never between parked cars.
Inspect Childrens'  Treats – Never eat unwrapped items. Throw away any suspicious candy.
At Home
Keep jack-o-lanterns away from areas where children may tip them over or get too close. Even better: use battery-operated lights.
Remove lawn furniture and other obstacles from your yard. Children don't always use the sidewalk.
Keep pets inside and away from the door. Halloween night can be stressful, even on the friendliest pet.
On The Road
Drive more slowly and carefully than usual. Children may be running, wearing dark costumes, or darting into the street. And , of course, drive sober!