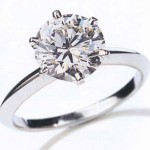 During the holidays, many people unwrap something small and sparkly.  Most think that their jewelry is covered by their Maine homeowners insurance, renters insurance or condo insurance. They're partly right.
Automatic Jewelry Insurance on Your Homeowners Policy
"Off the shelf" homeowners policies do cover jewelry against perils such as fire, windstorm or vandalism.   But that stuff doesn't happen very often. Theft of jewelry – the most common peril – is limited,  often to $1,000 total.
"That Stinks!" – Why Do Insurance Companies Limit Theft of Jewelry?
Theft of jewelry (and firearms, furs, fine art, money, and other "special classes" of property) is limited for 2 reasons:
Everyone's Maine homeowners insurance rates would go up to pay for these losses if coverage was automatic.
Not everyone collects those things. You don't want to pay more so that I can have automatic jewelry coverage, and I don't want to pay to insure your hunting rifles.
So, everyone has to insure their own jewelry, guns, etc. In insurance jargon, that's called "scheduling jewelry", because each piece is listed and valued separately. That list is known as a "schedule".
4 More Reasons to Separately Insure Your Jewelry
Jewelry Insurance Is Cheap – How much does jewelry insurance cost? A common annual rate is $7.50 per $1,000 of value. That means insuring a new $2,000 piece would cost you about $15.00 a year.
It covers other perils – Homeowners insurance doesn't covers losing a gemstone from a ring, or losing the entire ring, but it is covered when you buy jewelry insurance. This is actually the most common kind of jewelry insurance claim – even more common than theft.
It establishes the value of your jewelry before a loss occurs.  This protects you as well as the insurance company, and streamlines claim settlement. On larger pieces (usually over $5,000 in value), insurers will require an appraisal to add it to the schedule.
There's no deductible on jewelry insurance.
Jewelry insurance can be added to your Maine renters insurance, homeowners policy or condo unit owners insurance. For more information, contact your Noyes Hall & Allen agent at 799-5541.