There are many ways to buy insurance. Online. Over the phone. Using an app. By email. In person. In 15 minutes. In 7 minutes. Whatever.
Buying Insurance May Be Easy…
But, it's not how you buy insurance that creates value. It's whether it's there when you need it. If you buy insurance from someone hundreds of miles away, whom you've never met, or even talked to, do you really think they'll be there to help later? We will.
A Week's Worth of Questions We Dare You to Ask Your Internet Insurance Company
We helped Greater Portland Maine insurance clients with these issues, just in the last week:
My claim was denied, and I don't think it's right.
How can I insure property I co-own with three other people?
I want more umbrella coverage, but my insurer won't do it, because I have a couple of speeding tickets.
I haven't gotten my claim check from the other guy's insurance company after he hit my parked car.
I need help completing this form that the insurance company sent me.
I'm helping my son buy a car; who should insure it?
My insurance company wants me to make some improvements to my home, but I need more time.
Who can clean my basement in Saco, Maine after a sewer backup?
Who is good Portland Maine jeweler to have appraise my pieces?
I own a classic car. What's the best way to insure it?
I'm about to buy a new car. When is the best time to shop for the insurance?
My fiancee and I are buying a house together. Can we combine our car insurance, too?
Why does the insurance company want to know about other drivers in my house? They don't drive my car!
Should I suspend my insurance for the winter on one of my cars?
Help! The Maine DMV suspended my license in error!
My former insurance company keeps sending me bills!
I'm moving to Maine. How do I register my car? When do I need to get a Maine license?
I'm moving to New Hampshire. Can I keep my cars registered in Maine?
Does your insurance company know Pleasant Hill from Munjoy Hill? Westbrook from the West End? Sebago from Sugarloaf? Would you trust the answer they gave you to even one of the questions above? If not, that's why you need a local agent.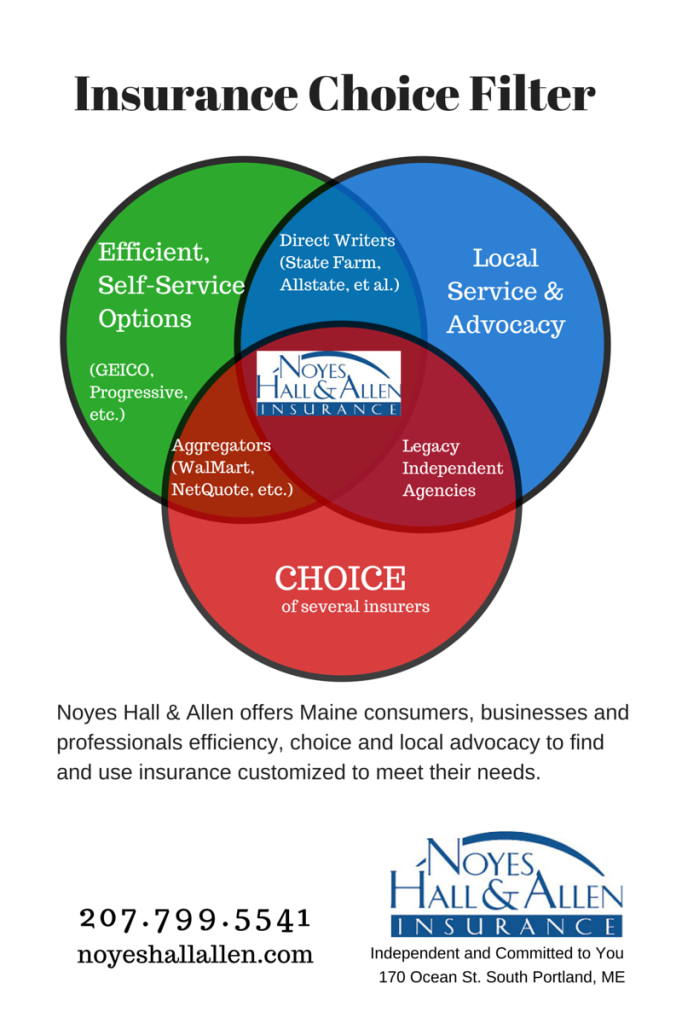 It doesn't matter how easy it is to buy insurance. It matters who's there to help when you have a problem that's not so easy. That's why you need a local agent.
For answers to your Maine insurance questions, contact a Noyes Hall & Allen agent. Right here in South Portland. 207-799-5541.