Many financial advisors recommend personal umbrella coverage to protect your net worth and future earnings. The maximum liability limit offered by most home and auto insurers is $500,000. Even those with modest incomes can exceed $500,000 in net worth, as they pay off debt, accumulate retirement savings, or receive an inheritance.
Maine's Wrongful Death Statute allows lawsuits up to $500,000 in addition to specific medical or property damages (update: as of 2019, Maine's Wrongful Death Statute permits up to $750,000 damages – even more reason to have an umbrella!) .
If you don't have enough liability insurance, you could be forced to pay out of your own assets and future earnings. Also, when your insurance runs out, so does your coverage for legal costs.
What Is an Umbrella Policy?
Maine Personal Umbrella Insurance provides excess liability protection above your home, auto, boat, RV and other primary insurance. Umbrella policies are purchased in increments of $1 million. They may be added to a personal package policy or purchased separately on a "stand-alone" policy.
How Much Does Umbrella Insurance Cost?
Maine Personal Umbrella policies are quite inexpensive – often less than $200 per year for $1 million in protection. Insurance companies can offer these low prices because they require you to maintain a certain amount of "underlying" coverage, usually $300,000 or $500,000. Insurers know that claims larger than that are rare, so umbrella policies are priced accordingly.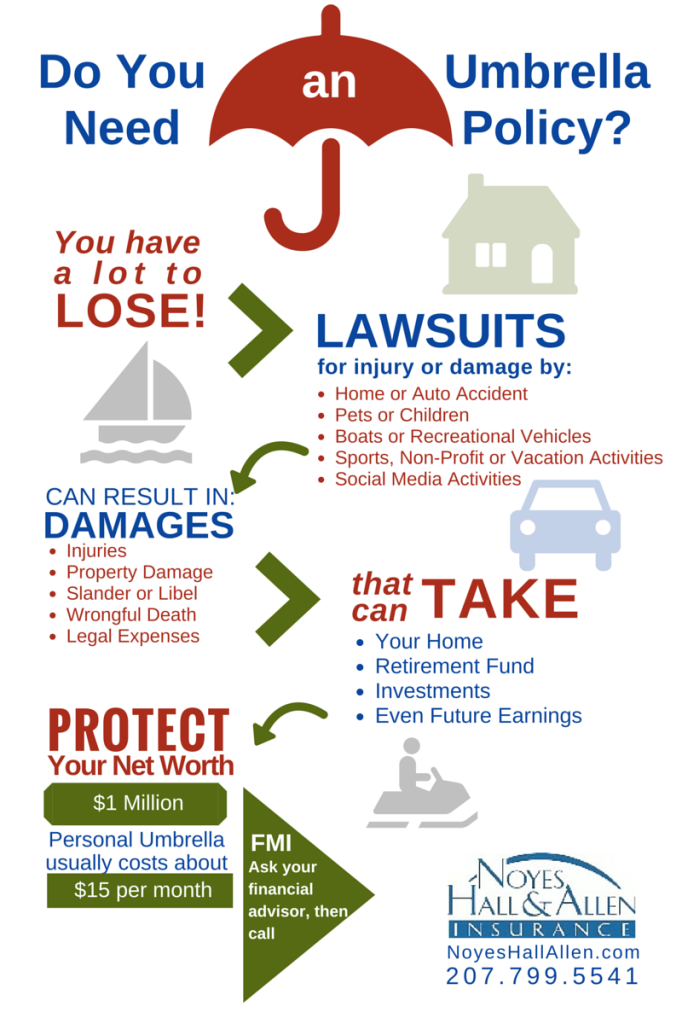 Can Someone Garnish My Wages?
Absolutely. If you don't have enough assets to pay for a legal judgement, but you expect to work in the future, the court can garnish a percentage of every paycheck you receive until the debt is paid.
Can They Take My Home or My Retirement Savings?
Courts don't  like to force  someone to sell their primary residence to pay for legal judgement, but it does happen.
How Much Umbrella Insurance Should I Buy?
Umbrella policies come in increments of $1 million. Many insurance companies sell up to $3 million, which is sufficient for many Americans. Higher limits are available, however, for those who need extra protection.
For more information about personal umbrella insurance in Maine, contact Noyes Hall & Allen at 207-799-5541. We would be happy to help you decide if an umbrella policy is right for you.