The sharing economy creates opportunity and risk for Maine property owners. Many capitalize on the opportunity and create serious rental income. Mainers collected more than $26 million from 175,000 Airbnb guests in 2016. And that doesn't include other services like HomeAway and VRBO.
Risks of Property Sharing and Short Term Rental
It's important to consider the risks of short term rental of your property as well as the rewards. You can be liable for guests' injuries, Guests can damage your property by abuse or negligence. You can run afoul of condo bylaws that prohibit or limit rental. Your neighbors may complain about the activities of your renters. You may jeopardize your homeowners insurance coverage by converting your home, apartment or condo into income property.
Plenty of Portland Maine area residents have those risks, whether they know it or not. More than 650 Airbnb units are actively offered for rent in the area. Owners hosted more than 50,000 guests in 2016, pocketing $7.1 million in revenue.
Portland Maine Regulation of Airbnb and Other Short Term Rental
Portland City Council has been concerned for years about the effect on housing affordability. Some investors have purchased condos and homes to rent them out short term. Portland area rents are at a historic high as the city becomes a trendy work and play destination. Short term rental of apartments and condos reduces the housing inventory for area residents and workers. City officials admit that they have no way to measure how many units are available short term rental.
That's why City Council passed a law effective January 1, 2018 limiting short term rental activities on the mainland. Island properties are not affected by the new law. What does the law do? Can you still rent out your home or apartment as an Airbnb? Does it matter if you live in the unit you rent? What if you rent a room instead of the whole unit? Here's a graphic showing how the new law applies to owner occupied principal residences, multi-family units and income property.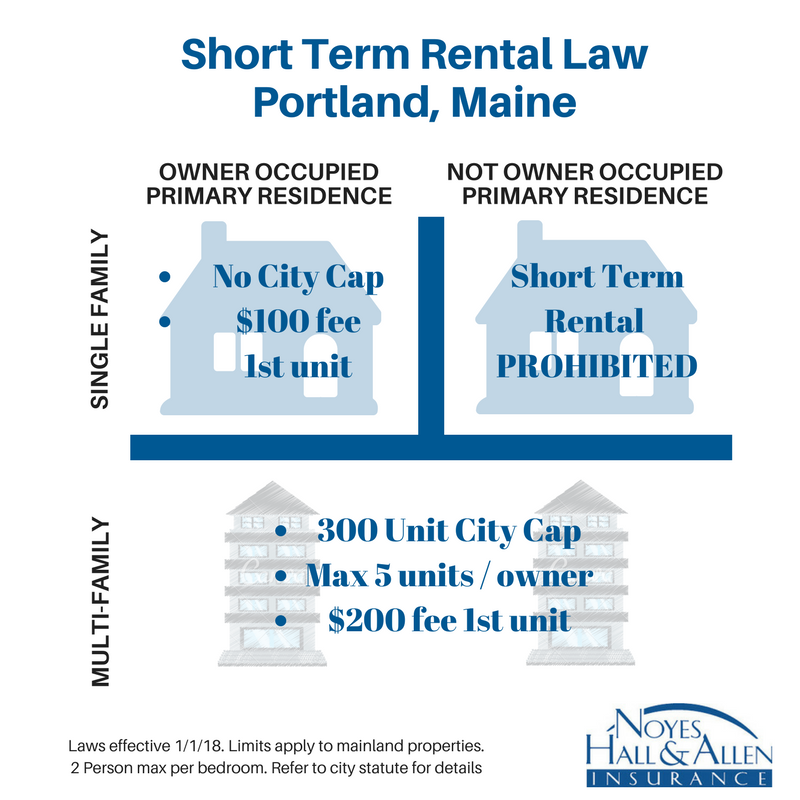 Do You Live in Greater Portland, Maine & Own Rental Property?
If you're a Maine resident who owns income property, contact a Noyes Hall & Allen Insurance agent at 207-799-5541, or request a quote online. You can't afford to wonder whether your insurance will be there when you need it, to protect your property and other assets.
We can advise you about the local insurance market and help you evaluate your options. Whether you own a home Cape Elizabeth, apartments in Portland, a camp on Sebago Lake, a cottage in Boothbay Harbor or a Sugarloaf ski condo, we know the insurance market. We represent many different insurance companies, so we can survey the market to find the best fit and value.
We're independent and committed to you.