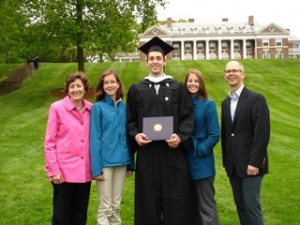 Congratulations, college graduate! You survived finals, senior week, graduation, and made it through the lunch afterwards without looking half as bad as you felt. Now, reality sets in.  In today's economy, reality might involve swallowing your pride and moving back in with your parents until you can afford another option.
Here are some common questions recent college grads refer to our Greater Portland Maine Insurance Agency. If you live in another state, this advice may or may not be accurate for you.
Am I Covered Under my Parents' Car Insurance?
If they own the vehicle, and it's listed on their policy, anyone they allow to use it is piggybacking on their insurance. Even if you have your own car and insurance policy, the vehicle owner's coverage is primary.
Should I Stay on My Parents' Policy?
You should stay on your parents'  policy as long as:
Their home is your legal address, AND
You don't have your own vehicle or insurance, AND
You live at home – at least part of the time.
Your parents have done a lot to help you over the years. Keeping you on their insurance is one more.  It doesn't benefit them – in fact, it will probably cost them money. But it's an important thing for you.
Being listed on your policy protects you at 3 Critical Times.
When You Drive Someone Else's Vehicle.
Listing you on your parents' policy reinforces that you are part of their household, and therefore an "insured". Unless you're an "insured", you only have coverage when they're driving THEIR vehicles, not anyone else's. If you are an "insured", your parents' liability limits extend to you when you are driving a friend's vehicle. Your friends probably have a lot less liability insurance than your parents. That could be important if you have an accident. You already have enough debt from college loans; you don't need a judgment from a lawsuit on top of that.
When You're Not in Your Parents' Vehicle
As long as you're an  "insured" (see #1 above), you're eligible for their Medical Payments coverage. This covers you when you're a passenger in another vehicle, or a pedestrian. Even more important, you're covered by their Uninsured/UnderInsured Motorist coverage. For example, if you are injured in someone else's car when it's hit by someone with little or no insurance, your parents' auto insurance will pay for your medical expenses.
When You Buy Your Own Insurance
When you do buy your first insurance policy, you will pay lower rates if you can prove that you've had continuious insurance. Insurance companies charge much higher rates to drivers who can't show proof of prior insurance. A copy of your parents' policy showing you as a listed driver is considered proof of prior insurance.
When Should You Get Your Own Insurance?
This varies from family to family. Because you might move in and out of the house; with or without a vehicle; to your own place or in with someone else; it's best to talk to your insurance agent. They can advise you when it's time to get your own auto insurance.
If you have questions, or would like a Maine auto insurance quote, contact a Noyes Hall & Allen agent at 207-799-5541. We are a Trusted Choice Independent Agency representing many insurance companies. This allows us to combine the power of choice with personalized professional advice.