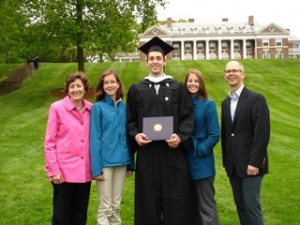 May is Boomerang Month for many college graduates and their parents. In today's economy, most grads move back in with their parents for at least some time before going out on their own. Even after they get their own place, they often use their parents' home as a stable legal address for some time.
Here are some common questions our clients refer to our Greater Portland Maine Insurance Agency. If you live in another state, this advice may or may not be accurate for you.
Is My Adult Child Covered Under my Car Insurance?
If you own a vehicle, and it's listed on your policy, anyone you give permission to use it also uses your insurance. Even if they have their own car and insurance policy, your policy's coverage is primary. It doesn't matter whether that person is your child, your friend, or anyone else.
Should I Keep My Child as a Driver on My Policy?
You should list your child on your policy if:
Your home is their legal address, AND
They don't have their own vehicle or insurance, AND
They live at home – at least part of the time.
You've done a lot of things to help your child, and this is one more. It doesn't benefit you – in fact, it will probably cost you money. But it's an important thing to do for your child.
Listing Your Child on your policy protects them at 3 Critical Times.
When they drive someone else's vehicle.
Listing them on your policy reinforces that they are part of your household, and therefore an "insured". Unless they're an "insured", they only have coverage when they're driving YOUR vehicles, not anyone else's. As an "insured", your liability limits extend to them when they are driving a friend's vehicle. Young adults don't always buy enough liability coverage. Your limits will protect your child from a lawsuit.
When They're Not in Your Vehicle
As long as they are "insureds" (see #1 above), they're eligible for your Medical Payments coverage. This covers them when they're a passenger in another vehicle or a pedestrian. Even more important, they are covered by your Uninsured/Underinsured Motorist coverage. For example, if they're in someone else's car, a pedestrian or a cyclist, and are hit by someone with little or no insurance, your Uninsured Motorist coverage can pay their medical expenses.
---
Related Post: How to Choose Uninsured Motorist Insurance Limits in Maine 
---
When They Buy Their Own Insurance
When your child buys their first insurance policy, they will pay lower rates if they can prove that they've had continuous insurance. Insurance companies charge much higher rates to drivers who can't show proof of prior insurance. A copy of a parent's policy showing the child as a listed driver is considered proof of prior insurance.
When Should I Remove My Child from My Car Insurance?
This varies from family to family. Because children can move in and out of the house; with or without vehicles; to their own places or in with someone else; it's best to talk to your insurance agent. They can advise you when it's time to remove your child from your auto insurance policy.
If you have questions, or would like a Maine auto insurance quote, contact a Noyes Hall & Allen agent at 207-799-5541. We are a Trusted Choice Independent Agency representing many insurance companies. This allows us to combine the power of choice with personalized professional advice.