The path of Hurricane Sandy is still uncertain. Most recent estimates indicate that the storm will make landfall south of Maine.
A Storm That Misses Still Can Cause Damage
Even if the storm hits well to our south, high winds and rain are predicted over a large area, including ours. Forecasts include a very wide wind-field and varied degrees of rain and potential flooding that will probably affect at least Southern Maine.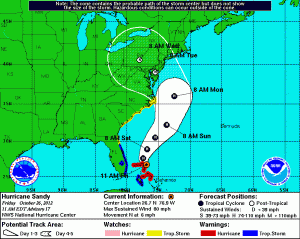 Prepare Your Business
Better to prepare your business for the worst and never have to use it than to be completely unprepared. Peerless Insurance Company has created an excellent pre-hurricane checklist for businesses, which we have shared below.  We hope you find it helpful to prevent and mitigate costly losses and interruptions to your business.
We are happy to answer your questions about Maine business insurance, from workers' compensation to business property to commercial vehicles and general liability. Contact Noyes Hall & Allen Insurance at 207-799.5541.