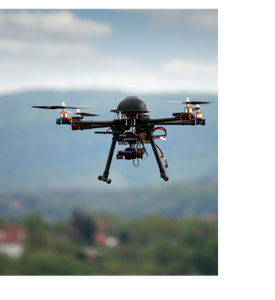 Innovative Maine businesses use drones to literally get a new perspective on their operations. Land owners survey lots and buildings. Engineers use photos from unmanned aerial vehicles (UAVs) in project work. Photographers and videographers use drones to capture unique images and videos. Marketers use or hire them to create compelling and disruptive visual content. Even individual hobby fliers own drones now.
Drones: A Money Saving Investment
High quality drones and UAVs are not cheap. It's easy to invest $15,000 or more in a good quality industrial setup, including cameras and software. Still, that can be a lot less expensive than renting an airplane or helicopter, and offers much more control and flexibility. It's also safer than sending an employee up on a ladder or bucket to inspect facilities at height. The price of hobby drones has dropped a lot in the last few years. You can find them for less than $1500.
Legal Issues for Drones in Maine
The FAA requires registration of drones and UAVs weighing more than 0.55 lbs. The maximum weight permitted is 55 lbs. Permitted location and other rules vary between pleasure and business use. A remote pilot airman certificate is required as well.
Drone owners and operators face many of the same liability issues as other aircraft pilots. The low altitude operation of UAVs can also create privacy and property issues. Some examples:
Injuring someone, either directly, or by causing an auto accident
Damaging property by striking it
Invasion of privacy or trespass
Even if a claim against you is not valid, defending yourself can cost many thousands of dollars in legal fees in Maine.
Drones are NOT Covered by Standard Insurance Policies
Because drones are considered unmanned aircraft, and subject to FAA regulation, they are excluded from coverage on homeowners or business liability policies. The Maine Bureau of Insurance recommends that you buy separate insurance for your drone. We agree.
Up to now, few insurers have offered insurance on drones. One of our company partners, Acadia Insurance recently introduced a liability insurance plan for businesses that use drones as an incidental part of their ordinary operations.
If you or your Maine business uses a drone or other UAV, contact a Noyes Hall & Allen Insurance agent in South Portland at 207.799.5541. We'd love to hear how you're using this innovative technology for fun or business. We can help you manage your risk. We're independent and committed to you.