If you're moving or relocating to Portland Maine, you'll be eager to take care of business once you've settled in. Well, maybe not. But, you'll feel better after you do it. You'll need to get a Maine driver's license and register your car in Maine within 30 days. Here are the steps.
Step One: Get Maine Car Insurance
Maine requires every vehicle owner to have insurance. This, and our mostly rural character, makes cheap auto insurance a way of life. Maine has the lowest average car insurance costs in the U.S.
Shopping for car insurance isn't as bad as you think. Nobody does it for fun, but it will go faster if you have your old policy information handy.
If you're looking for Maine auto insurance and live in Southern Maine, we can help. As an independent agency, we offer a choice of many insurance companies at once. You can get up to 6 Maine auto insurance quotes online in 10 minutes, or call a Noyes Hall & Allen agent to get your quotes.
Step Two: Visit City or Town Hall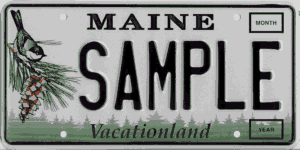 Take your insurance card and your out-of-state title and registration to your local municipal office. Note your vehicle mileage. You're going to need that to register. They'll collect excise tax, a type of vehicle property tax. Excise tax is based upon the age and "cost new" of your vehicle. If you call ahead, your city or town can tell you how much your excise tax will be.
Most Maine cities and towns including Portland, Falmouth, South Portland, Cape Elizabeth, Scarborough and Westbrook provide standard Maine license plates. If you want vanity plates, order them from Maine BMV.
Step Three: Get Your Maine Drivers License
Maine Bureau of Motor Vehicles issues drivers licenses. As long as your out-of-state license is valid and your name hasn't changed, it's easy to convert it to a Maine license. You'll need to:
Provide proof of residency (your auto registration should suffice)
Take an eye test
Turn in you old license (sorry, we know that picture was your favorite)
Pay a fee.
Greater Portland area Bureau of Motor Vehicle Branch Locations:
Maine BMV Portland: 125 Presumpscot St. 04103 207-822-6400
Maine BMV Scarborough: 200 Expedition Drive, Suite G 04074 207-883-2596
Do I Have to Get a Maine Inspection Sticker?
Yes, but maybe not right away. If you have a current inspection from another state, you're not required to get a Maine State auto inspection until that expires. A lot of people do it at the same time as registration to make it easier to remember to renew both. Maine registration and inspection each last for a year.
Don't Forget to Insure Your "Stuff"
Many Portland Maine landlords require proof of renters insurance. Even if they don't it's a good idea to protect your belongings from fire, theft and other disasters. We can quote Portland Maine renters insurance in 10 minutes or less. When it comes time to buy a home in Maine, or if you have questions about Maine insurance, we're here to help. We offer a choice of several preferred insurance companies. We're independent and committed to you.
YOU MIGHT ALSO LIKE: