Comparing homeowners insurance among several companies is smart. When you only check one company, you don't know if you're getting a good value. Some insurers target higher value homes. Others focus more on the middle-market. Still others specialize in manufactured homes or hard-to-insure homes.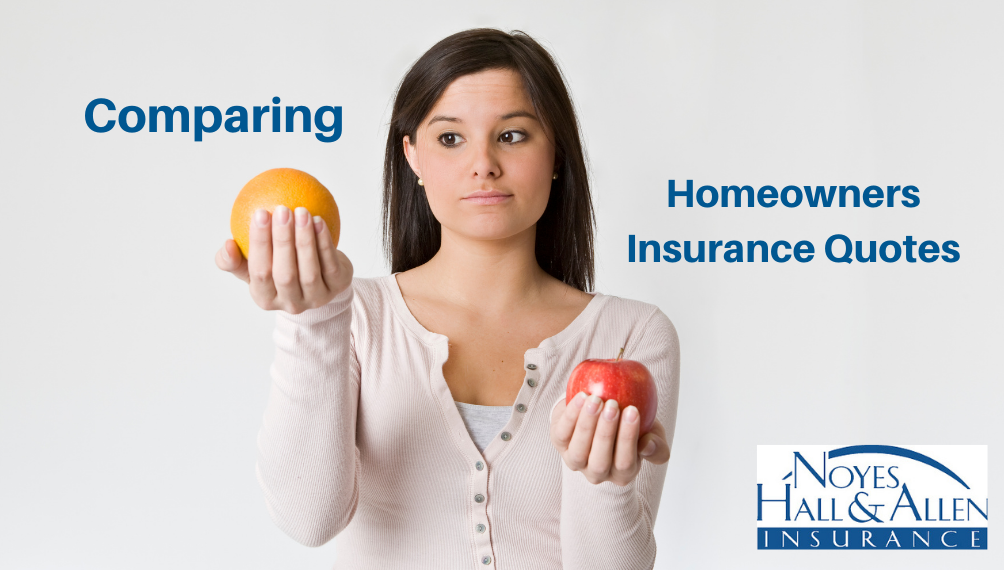 What's the best way to shop for homeowners insurance?
Step 1: Gather Information About Your Home
You'll need:
Square footage
Approximate age of updates to roof, plumbing, heating and electrical systems
Details about any claims in the last 5 years
Current coverage limits and deductibles (if you currently own the place you're insuring).
Step 2: Decide Where to Get Quotes
You have 3 main options for getting insurance quotes:
DIY – go online or call an 800 number. You'll get 1 quote at a time from companies like Progressive, GEICO, State Farm or Liberty Mutual. Plan to call a few places and repeat answers to the same questions to get quotes to compare.
Company Agent – State Farm, Allstate, Liberty Mutual and others may have local offices near you. You'll still only get 1 quote at a time. But unlike the DIY option, you'll get advice and help from an agent.
Independent Agent – like Noyes Hall & Allen. Indie agents offer the convenience of several quotes at once. They also provide help and advice, like a company agent.
Step 3: Comparing Homeowners Insurance Quotes
Comparing homeowners insurance quotes can be challenging. Each company's presentation looks different. Some may not offer the coverage you asked for. And they may not even tell you that it's not the same.
Key Differences
The basic coverage limits and deductibles should be clear. You should be able to tell the difference by looking at the numbers. A policy that insures your home for $600,000 obviously has more coverage than one insuring it for $500,000. Of course that coverage costs something. Likewise, a higher deductible usually costs less than a lower one.
The other differences may not be easy to find. Here are a few things to look for:
Comparing Homeowners Insurance Quotes Since 1933
Noyes Hall & Allen Insurance in South Portland Maine has helped generations of home and condo owners protect their assets. As an independent agency, we offer a choice of several insurance companies.
Own property in Southern Maine? Want to compare insurance quotes all at once? Call a Noyes Hall & Allen agent at 207-799-5541. Not ready to talk to an agent? You can get up to 5 insurance quotes online on our website.
We can help you find the best fit and value for your Maine home or condo insurance. We're independent and committed to you.