The Portland Maine Water District offers HomeServe service agreement products. There are three options: exterior water lines, exterior sewer lines, and interior plumbing.
Does a water district plan duplicate coverage you already have under your homeowners?
Can you buy water or sewer line coverage from an insurance company?
Is it cheaper to buy water line coverage from an insurance company, or the water district?
We've created a spreadsheet comparing what's covered by the water district plans with what insurance products cover. We've also outlined the cost and benefits of each. This 11 minute video reviews it in detail: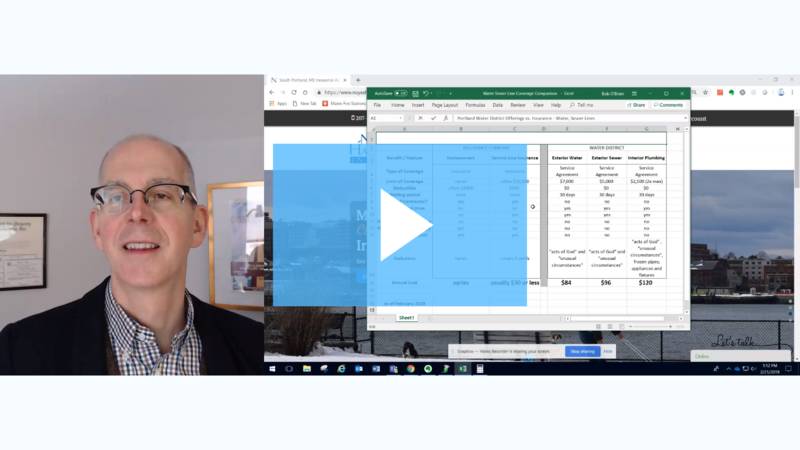 If you prefer to look at the spreadsheet yourself, here it is: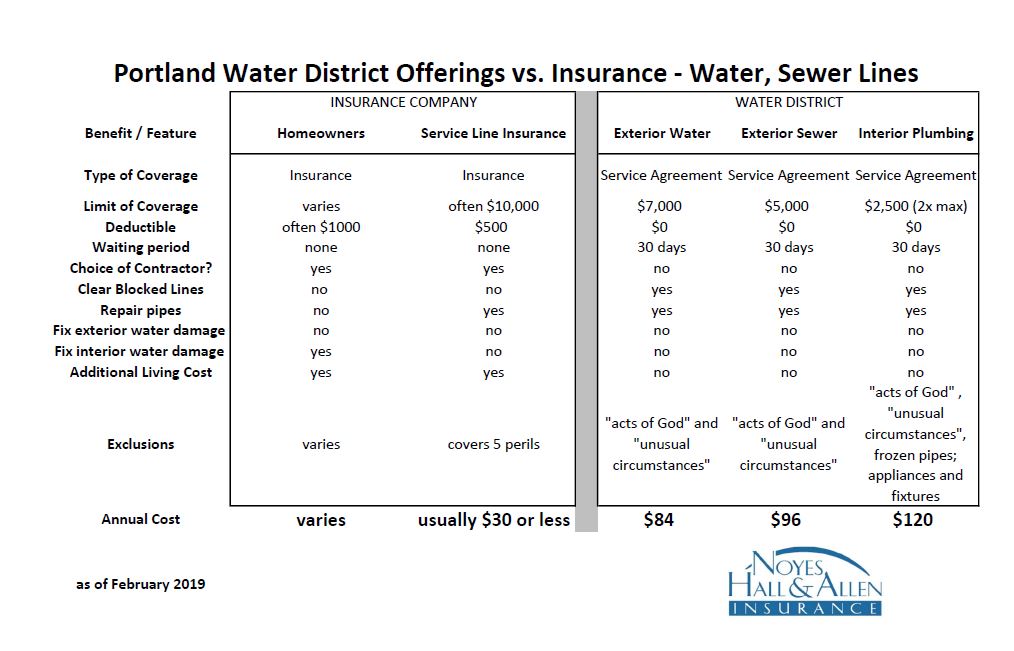 Some of the key differences between the plans:
Not every insurance company offers service line coverage yet. It's getting more popular all the time.
Insurance coverage limits are generally higher than the water district plan.
The water district plan is actually a service agreement, not an insurance policy.
Insurance has deductibles. The water district service agreements don't.
No waiting period for insurance. 30 day wait for service agreements.
Insurance allows you to choose your own contractor. The water district plan requires you to use theirs.
Pre-paid water district service agreements cover the cost to clear blocked pipes. Insurance does not cover maintenance issues like this.
Insurance covers costs to live elsewhere during repairs after a plumbing or sewer disaster. The water district plans do not.
Insurance costs 66% to 90% less than water district plans.

Choose a Water District Plan If:
– you prefer to pay more for the security of no surprises.
– you don't want to pick your own contractor.
Choose Insurance If:
– you can handle a $500 or $1,000 deductible for a much lower cost.
– you want to use insurance for "the big stuff" like crushed lines, not smaller plumbing issues.
If you have questions about Greater Portland Maine property insurance, contact a Noyes Hall & Allen Insurance agent in South Portland. We offer a choice of many of Maine's best insurance companies. We can help find the best fit and value for you. We're independent and committed to you.