It seems like everyone wants to live in Portland, Maine. Hardly a week goes by that we're not on some "best of" list. College graduates flock here for the food, drink, entertainment and active sports scene. Retirees downsize to Portland for cultural options and top-shelf medical facilities. Everyone loves the city's size. It's big enough to keep you busy, small enough to find your "tribe", and see them often about town.
Many new Portland Maine residents want to be "on the peninsula". Portland's downtown is flanked by hills overlooking the east and west ends, and water access on the north and south. Almost anywhere on the peninsula, you can walk from grocery to gallery, beach to brewery, or concert hall to coffee shop. And you can't spin a lobster without pointing to a restaurant.
What's the Best Neighborhood in Portland Maine?
With so many great neighborhoods, it's more about finding the best fit for you. We've broken down the choices to help you decide where to look. All the neighborhoods are in Portland, unless noted.
Near Lots of Restaurants (walking distance):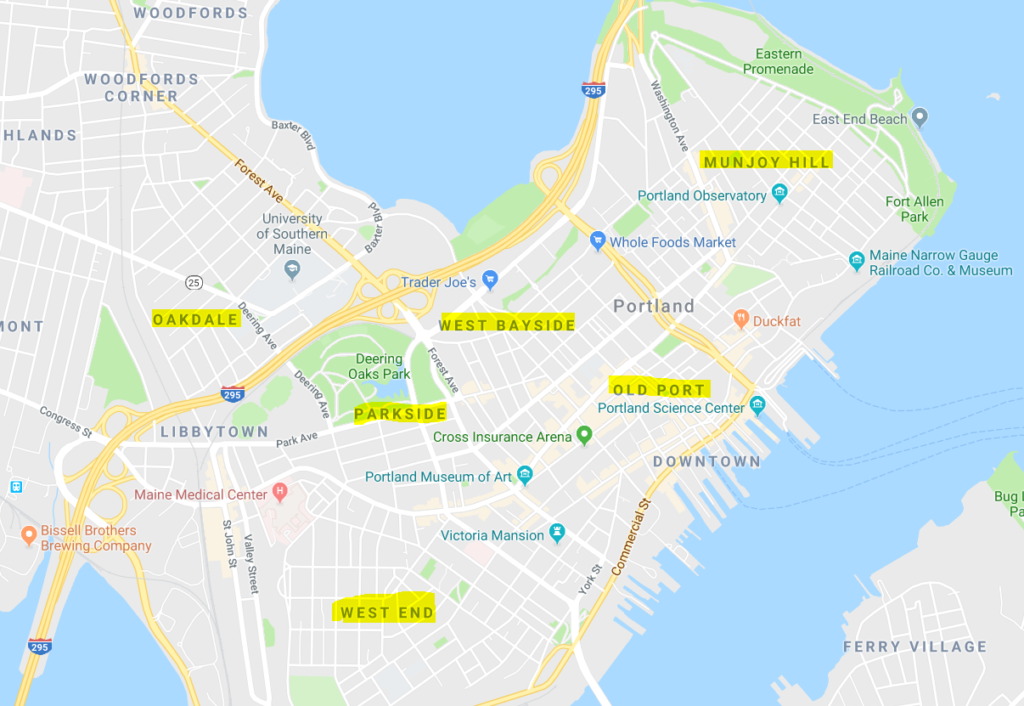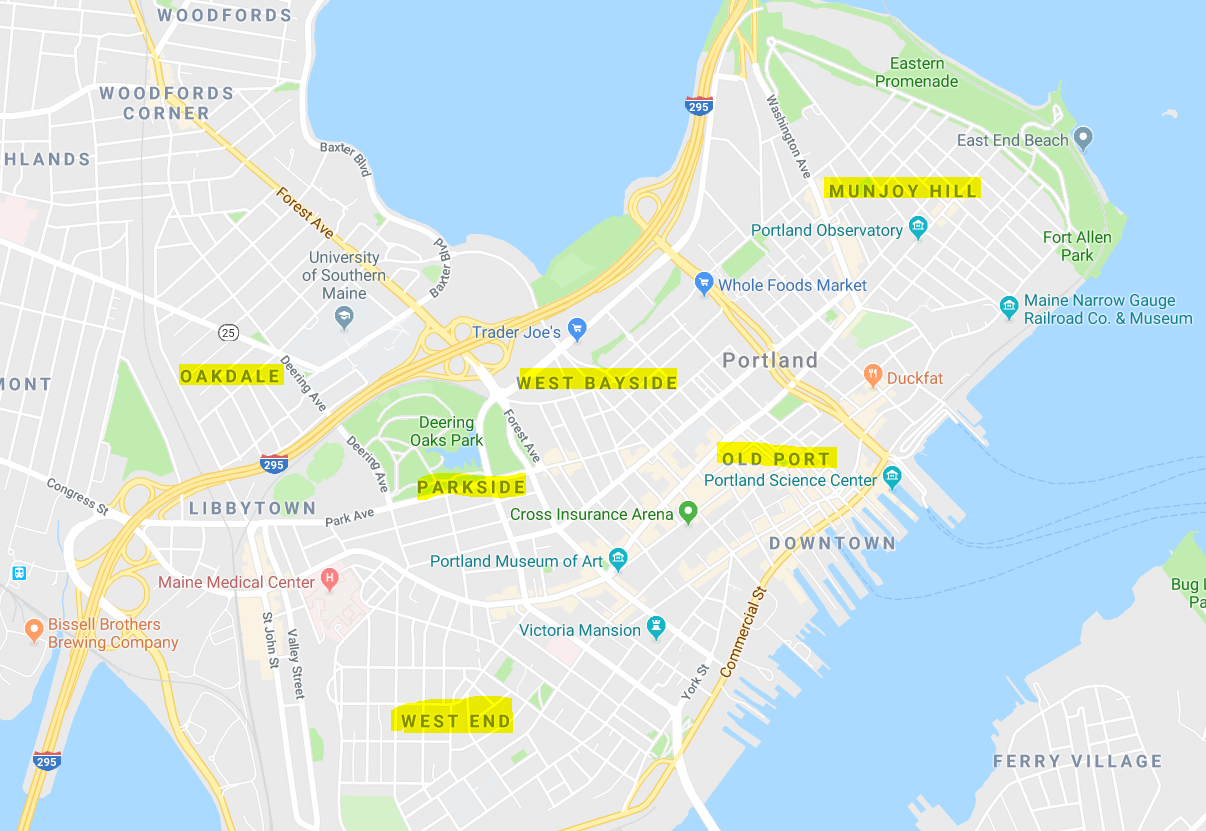 Munjoy Hill
Newbury / India Street
Old Port
Meeting House Hill (South Portland)
Near Nightlife and Music Venues:
Old Port
Congress St – mid-town
Longfellow Square
Near Beaches and Trails:
Baxter Boulevard
Newbury / India Street
Ferry Village / Willard Square (South Portland)
Munjoy Hill
Car-Free Possible:
Knightville (South Portland)
Bayside & Parkside
Congress St. – mid-town
Longfellow Square
Mostly Residential: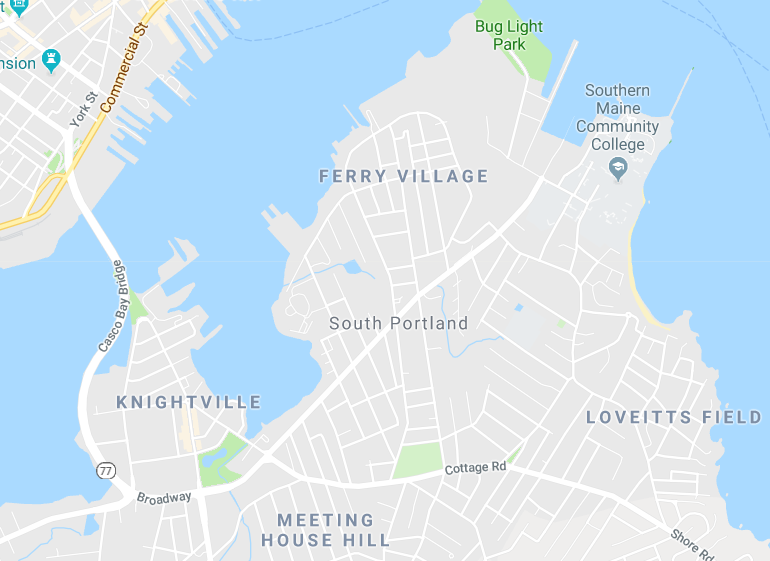 Oakdale
West End
Ferry Village (South Portland)
Meeting House Hill / Willard Square (South Portland)
Less Congested, but Close to the City:
Deering Center / Rosemont
North Deering
Ferry Village (South Portland)
Meeting House Hill (South Portland)
Peaks Island
Drive-to Cheaper Rents in Portland Metro Area:
Westbrook
Old Orchard Beach
Redbank / Brick Hill (South Portland)
Riverton
Older Apartments with Character:
West End
Oakdale
Deering Center
Old Port
Sleek New Apartments and Condos:
Munjoy Hill
Newbury / India Streets
Bayside
Commercial St.
What's the Cost of Living in Portland Maine?
Like many coastal cities, Portland Maine's cost of living is above average. But, it's about 50% less than New York and almost 30% less than Boston. The biggest outlier in our cost of living is housing cost: about 57% higher than the U.S. average. You might need to compromise on your "wish list" to find a place you can afford. And, because it's so popular, it's a seller's market right now. If you see a great house, condo or apartment, it likely won't be on the market tomorrow.
Moving to Portland, Maine?
You're going to love it! We've been here since 1933, and are proud to be active in our community. We sponsor local non-profits and events. We champion fellow small businesses. We volunteer and buy local. Find us in the Knightville / Mill Creek area of South Portland, across the Casco Bay Bridge from Portland. We love to share our knowledge about the place we call home.
Need insurance for your car, apartment, boat, snowmobile, home or condo? Contact a Noyes Hall & Allen agent at 207-799-5541. We represent many insurers and can compare rates and coverage to find you the best value. We're independent and committed to you.
Not ready to talk to an insurance agent? You can get real insurance quotes online in 10 minutes from our website.