If you know me, you know that I like to bike year-round. Not every day, but most. I'm not alone. Two of our current staff of 10 regularly bikes to work.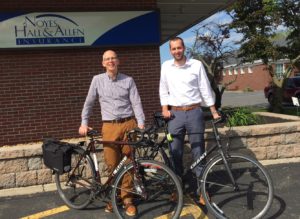 We're lucky to live and work in the Portland area. Maine is ranked #20 most bike-friendly state by the League of American Bicyclists. The Portland Maine Bicycle Commuting Facebook group has more than 650 members (including me).
As a bike commuting insurance agent, it's about time I wrote to explain how common insurance policies can protect cyclists, and suggest the best insurance coverage for Maine cyclists. The good news: many cyclists already have the basic coverage; they may just need to adjust their policies to get the best protection.
Car Insurance for Bicycles?
Most cyclists are also drivers, so they have car insurance. They're probably unaware that their auto policy protects them when they're cycling. One part, Uninsured Motorist Coverage, is especially critical when you're riding your bike:
Uninsured Motorist coverage protects you against injury
caused by an accident that's someone else's fault
if that person had no insurance or insufficient insurance
UM coverage can pay:
hospital and medical care
prescriptions and therapy
lost wages
pain & suffering
How Uninsured Motorist Coverage Works
UM covers the difference between the limit you purchased and what the responsible party bought. An example: someone with Maine state minimum limits ($50,000 per person) hits you. Your medical bills, lost wages and pain & suffering total $100,000. Your UM policy will pay $50,000 if you purchased at least $100,000 of coverage.
Key Takeaways:
Buy as much UM coverage as you can. For most Maine auto policies that's $500,000.
Some umbrella policies allow you to include UM up to an additional $1 million.
Even if you don't own a car, you can buy a "named non-owner" policy, including UM coverage.
Home, Condo or Renters Insurance for Bicycles?
The most common Maine property insurance policies cover:
Your bike and accessories against 16 "named perils", including theft and vehicle damage.
Injuries or Property damage you cause to others while cycling
Legal defense against lawsuits for injuries or property damage.
They do NOT cover:
Collisions or dumping
Road damage such as potholes
Falling off a vehicle rack, driving into the garage with the bike on the roof rack, etc.
Key Takeaways:
Buy "replacement cost" coverage to avoid depreciation.
Buy "open perils" (sometimes called HO-5) homeowners coverage. This greatly expands the 16 named perils described above.
Your deductible will apply. Keep the value of your bike in mind when you choose deductibles.
Some insurance companies allow you to "schedule" your bike, which provides better ("open perils") coverage, often at no deductible.
---
Related Post: HO-5 vs. HO-3 Homeowners Policies. What's the Difference?
---
BEWARE: E-Bike, Scooter, Moped Insurance is Tricky!
Scooters, mopeds and similar self-propelled vehicles are considered "motor vehicles" by insurance policies. They should be insured on an auto or motorcycle policy. Maine State Law requires proof of auto insurance to register them. The insurance isn't very expensive.
E-bikes are unique. They're not considered to be "motor vehicles" by most auto insurance. But they ARE defined as motor vehicles on most homeowners policies, and thus EXCLUDED. That means no property OR liability coverage for e-bikes.
A few specialty e-bike insurance programs exist. For now, we recommend that you buy coverage from them to protect yourself against liability, theft and more. If you do purchase special insurance for your e-bike, pay particular attention to your Uninsured Motorist coverage. As of 2019, Noyes Hall & Allen sells a product that can provide up to $500,000 liability and UM coverage for e-bike owners.
---
FMI: Electric Bikes and Insurance – from Bike Law Maine
---
If you're a cyclist in Maine, and have questions about insuring yourself or your bike, call Noyes Hall & Allen at 207-799-5541. We understand cyclists and insurance. We'd be happy to help you protect yourself better. We offer a choice of Maine's top insurance companies, and know how to advocate for our clients. We're independent and committed to you.
---
Resources:
Maine's data card from League of American Cyclists (.pdf)
Bicycle Coalition of Maine website