Maine insurance rates are following national trends. Home and auto rates are up as insurers try to catch up with rising claim costs and construction values. Portland Maine area insurance buyers saw almost a 10% price increase in the 1st quarter of 2023. Even so, Maine insurance rates remain among the lowest in the US.
Maine Insurance Rates – Auto – January to March 2023
Between January and March 2023, Portland Maine area auto insurance rates jumped 6.8% on average at renewal, up from 3.7% last September. The average annual auto insurance policy in Cumberland County costs $1341 per year.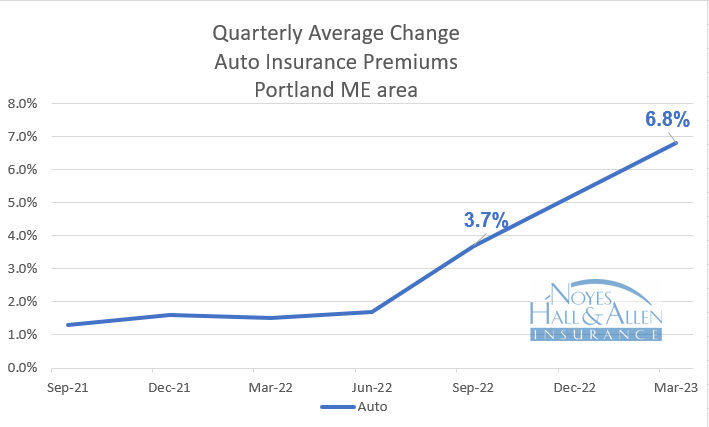 Insurers reported higher than expected losses as people drove more after COVID reductions. Body shops and mechanical repair shops charged higher prices due to supply chain and labor shortages. Used auto prices spiked during COVID and settled above pre-pandemic levels. Finally, auto rentals are much more expensive, and needed longer due to body shop delays. All of these factors, along with medical cost increases, put strong upward pressure on auto insurance rates in 1Q 2023.
Maine Insurance Rates – Home – January to March 2023
Maine home insurance rates increased even faster than auto insurance. The average home insurance premium was 10.9% higher than a year ago. That's up from 9.6% in September. And we haven't seen the end yet.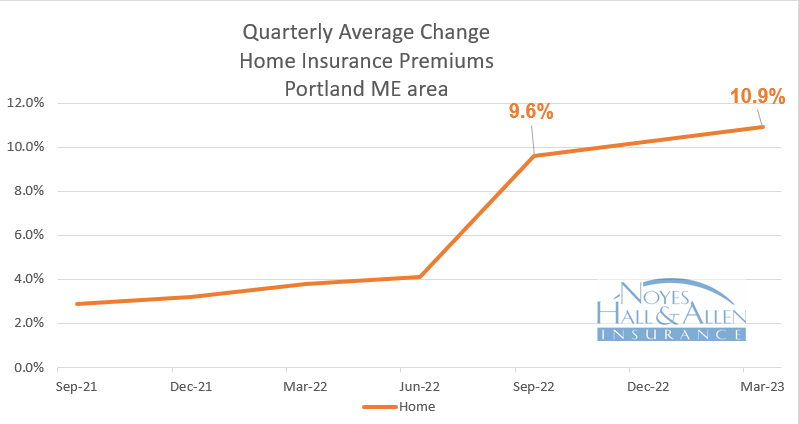 Many of the same inflationary pressures pushed home prices higher. Building materials and labor costs spiked dramatically during COVID and haven't settled completely back. It's been difficult and expensive to find contractors. That delays repairs and increases claim costs.
But reinsurance costs are probably the biggest driver of property insurance rates. Reinsurance is insurance for insurance companies. It protects them against catastrophic losses from natural disasters like wildfires, blizzards, ice storms, hurricanes and tornadoes. Many insurance companies saw their reinsurance rates jump 30-50% this year. Insurance companies must pass on the cost of reinsurance to their customers.
Compare to Find the Best Value
Most financial advisors recommend comparing to get the best insurance value. If you live in southern Maine, you can get up to 5 insurance quotes in 10 minutes from our website. Or contact a Noyes Hall & Allen agent in South Portland at 207-799-5541 for a free no-obligation custom review. We offer a choice of several insurance companies. That means we can help you find the best insurance value.
We're independent and committed to you.