Maine businesses are using drones to create unique video, capture aerial shots, and check locations that would otherwise be hazardous or difficult to access. Photographers and videographers capture unique images and videos. Marketers use drones to create compelling and  content. Real estate agents and developers use drones to show the attractiveness and potential of properties.
New Drone Insurance Program in Maine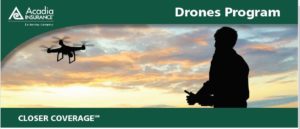 We were excited to learn today about Acadia Insurance's new drone insurance program.  Until today, our clients have had to insure their drones in Maine with specialty insurance programs. That meant separate billing, coverage and claims. Sometimes, it's even meant that they had to work directly with the insurance company, with no agent to help. Insurance company financial stability isn't a given for these programs.
The Acadia program allows Maine businesses to insure their drone with the rest of their property and liability. One bill, one claim adjuster, one agent. Acadia is based in Westbrook, Maine and already insures thousands of Maine businesses. They've introduced special programs inspired by iconic and growing Maine businesses, from breweries to artisans and contractors.
---
---
Do you use a drone in your Maine business? Have you bought insurance from a specialty program or an insurance company you've never heard of? Do you wonder if they'll be able to pay claims? Do you struggle to speak to a human at your insurance company? Call a Noyes Hall & Allen Insurance agent in South Portland at 207-799-5541. We're eager to see if Acadia Insurance can help Maine businesses insure their drones with a Maine insurance company.