Wood and pellet stoves and boilers have long been a popular source of heat for Maine homes and businesses. However, the vast majority of Maine homes use oil as heating fuel. Recent increases in oil prices have led to greater interest in alternative heating fuels in Maine. This has inspired technological improvements in wood-burning appliances.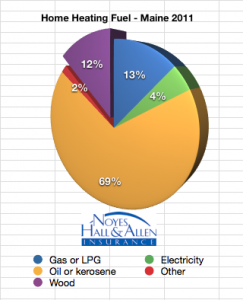 Source: US Census Bureau, American FactFinder
Insurance companies are often slow to adapt to new technologies and changing behaviors. This is prudent, since they rely on empirical data and the law of large numbers to manage risk. Their risk is much greater in the early years of adoption.
Maine homeowners insurance companies have carefully accepted homes heated by wood, provided:
The wood or pellet stove or boiler is a secondary heat source.
The primary heat source is controlled by a thermostat.
The stove is UL approved and installed in accordance with fire codes.
The insured follows woodstove safety tips.
In 2012, one of the insurance companies we represent, announced that they would insure homes, farms and businesses with certain wood and pellet stoves and boilers as the primary source of heat. Unfortunately, that is no longer the case. Homes using pellet or wood stoves must have a thermostatically controlled backup heat source, such as oil, propane or electric.
In addition to the traditional requirements listed above, some insurers require the make and model of the wood stove or boiler, and require the appliance to be:
Professionally Installed;
Self igniting and thermostatically controlled;
Fed automatically by auger or gravity from a bulk storage hopper or silo (pellet fuel only);
Protected by a sprinkler head above the unit, if required by code.
For more information about insuring your Maine home or business, contact Noyes Hall & Allen Insurance in South Portland at 207-799-5541. Our Trusted Choice independent Maine insurance agency represents many insurance companies.